Mail-Order Food Business Market in Japan: Key Research Findings 2019
Yano Research Institute (the President, Takashi Mizukoshi) has conducted a survey on the domestic mail-order food business market and has found out the market trends, the trends of market players, and the future perspectives.
Transition and Forecast of Mail-Order Food Business Market Size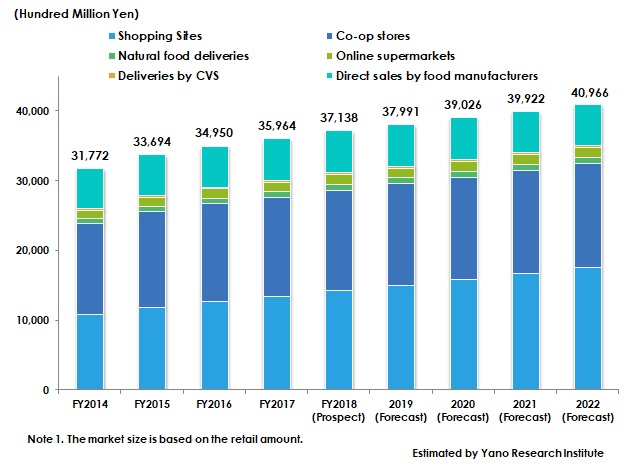 Mail-Order Food Business Market Share by Channel (FY2018 Prospect)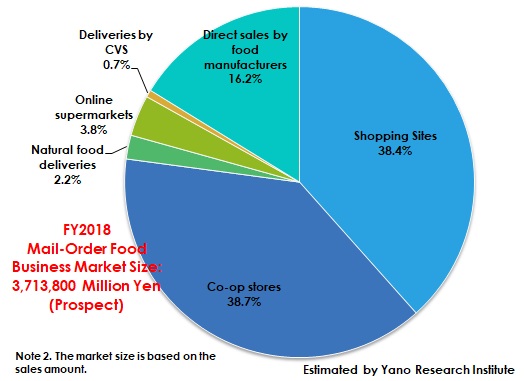 Market Overview
The mail-order food business market in FY2018 is projected to increase by 3.3% from the previous fiscal year to attain 3,713,800 million yen. When observing the sales ratio by channel, just like in the past, co-op stores are expected to occupy the largest ratio followed by shopping sites. However, the ratio is likely to be just about the same, with the former at 38.7 % and the latter at 38.4%. Consumers used to wish to take a look at the merchandise, especially food, at a store before buying it, but more people have begun buying through online year by year, against a background of mail order business has become a general custom, including those merchandises other than food.

In addition, diversification of needs in food has also expanded the mail-order food business market. For a consumer, buying food at stores is affected by how variety of foods sold at the stores located within the sphere of the consumer's life. Now that the tools and technologies have become available to cope with diversifying buyer needs and tastes, the buyers have begun shifting their ideas that used to be "all the buying activities can be done within the living sphere" into "let's buy things via mail order if something they want is not available at the neighboring stores." Such a change in consumer sentiment is considered as one of the factors that have boosted the mail-order food business market.

Noteworthy Topics
The mail-order food business market has continued scrambling for users and securing customers for each service, as the competition becoming fiercer. There used to be a tendency of providing every service at one stop, particularly when larger such mail-order company was. In recent years, however, the alliance between companies with different strength have accelerated in getting together to compensate with each other, aiming for a synergy effect.


Especially conspicuous in company alliance are e-commerce sites or online supermarkets, both of which having the abilities of product appeal, sales, and attracting customers, getting together with enterprises strong in logistics. Online supermarkets are particularly keen on such alliance. In the recent status where labor shortage in home delivery has become a social issue, supermarkets have been facing limited ability in delivering the merchandises, although the supermarkets themselves have been stably needed. The problem was something that could not be solved by them alone. Therefore, increasing number of online supermarket operators has allied with businesses with strong logistics infrastructure, aiming to expand their sales.


Future Outlook
As mail-order food business has become commonly used, the market is likely to gradually expand with 2 to 3% of annual growth rate by FY2019 and beyond. The market size based on the retail amount is expected to achieve 4,099,600 million yen by FY2022. The market share of co-op, estimated as very slightly larger than shopping sites in FY2018, is expected to be reversed by FY2019.


When the consumption tax will be increased from the current 8% to 10% in October 2019, mail-order food business basically enjoys the reduced tax rate to remain at 8%. Therefore, the market is projected not to be largely affected by the tax hike. Generally speaking, the consumption tax increase is likely to tighten the purses of consumers, which increases the demand of low-price food. In the food industry, restaurants and diners are excluded from reduced tax rate, which is likely to increase the opportunity of takeaway food and cooking at home, positively affecting the ready-to-eat food market. Liquors, too, are excluded from the reduced tax rate, so that the last-minute surge in demand for liquors is likely to occur by September 2019, just before the tax hike. Sudden downturn before and after the tax hike is something to concern about, still, the opportunity to drink at home may increase if eating at restaurants and diners faces tax hike at 10%.


Research Outline
1.Research Period: April to June, 2019
2.Research Object: Mail order businesses, food-related businesses, Co-op, food retailers, food wholesalers, and etc.
3.Research Methogology: Questionnaire by the specialized researchers, surveys via telephone, and literature research
The mail-order food business market in this research indicates the following categories:
1) Shopping sites (including both online-order and catalog-order business), 2) Co-op delivery services, 3) Natural food delivery services, 4) Online supermarkets, 5) Convenience store meal deliveries, 6) Direct sales by food makers. The merchandises are: Fresh food (fishery, livestock meat, and vegetables & fruits), rice, beverages (mineral waters are included, but not the home-delivered water), liquors, confectionery & sweets, health food, and other processed food. No sundries are included.


Contact Us
©2019 Yano Research Institute Ltd. All Rights Reserved.
The copyright and all other rights pertaining to this report belong to Yano Research Institute.
Please contact our PR team when quoting the report contents for the purpose other than media coverage.
Depending on the purpose of using our report, we may ask you to present your sentences for confirmation beforehand.