Loyalty Program (Point Reward Service) Market in Japan: Key Research Findings 2019
Domestic Loyalty Program Market Size Projected to Expand to 1,893,000 Million Yen by FY2018
Yano Research Institute (the President, Takashi Mizukoshi) has conducted a survey on the domestic loyalty program (point reward service) market and has found out the current status, the trends of market players, and the future outlook.
Transition and Forecast of Domestic Loyalty Program Market Size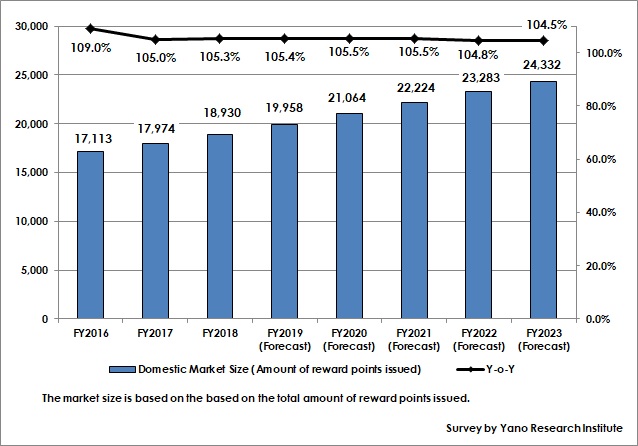 Market Overview
Size of the domestic loyalty program (point reward service) market in FY2018, based on the total amount of reward points issued, rose to 1,893,000 million yen. In addition to wider use of in-store loyalty program, increasing number of companies have introduced multiple shared-points systems, which led each company to issue multiple kinds of reward points. Therefore, the amount from the points issued is likely to expand furthermore. The market size is projected to attain 1,995,800 million yen by FY2019.

As there have been many attempts by some companies, such as issuing both the shared and in-store reward points, or switching into other shared reward points system, the environment surrounding the loyalty program or reward points has been changing.

Noteworthy Topics
Progressive Use of Multiple Reward Points

Expansion of attempts to use both the systems of shared and in-store reward points


By introducing a shared reward points system added to the in-store reward system, the stores can expect more customers to present their reward point cards, eventually making it easier for the store operators to understand the attribute information of the customers as well as their timing and frequency of store visit.


Some member stores give more beneficial and money-saving impressions to the users by providing both in-store and shared reward points, encouraging such users to present their point-reward card more often so that the stores can build the system that is easier to collect the customer information.


2) Multiple Reward Point Systems Introduced by Convenience Stores


The number of retailers that have introduced multiple reward point systems has increased. Among such retailers, those that have been attracting attention are convenience stores.


Conventionally, the convenience store that has introduced multiple shared point systems was only Lawson. However, Family Mart has announced that it is scheduled to newly introduce The Rakuten Super Points program as well as d POINT CLUB from November, 2019. This makes Family Mart users to be able to use three kinds of shared-point systems.


If many convenience stores introduce multiple point reward systems, consumers may, in the future, consider reward points at the time of a purchase to be a matter of course. In that case, it is possible for the convenience store without adopting multiple point reward systems may reduce the number of customers. Therefore, it is easy to imagine that there would be multiple shared point systems introduced at more convenience stores even though they already have their own in-store reward point systems, respectively. It is worthwhile to pay attention to the status of shared point systems at convenience stores from now on.


Future Outlook
By FY2023, the domestic point reward service market size (based on the total amount from the reward points issued) is likely to attain 2,433,200 million yen. The market is expected to keep expanding, as the number of companies introducing multiple shared point systems has increased, in addition to wider use of in-house reward points systems.


Those companies that issue in-store reward points are likely to continue their conventional reward point systems to promote their sales as well as to carry out customer marketing by analyzing customers' purchasing behavior using ID-POS data. It is possible for such in-store reward point issuers to enable their own points exchangeable with shared reward points or other such acceptors, so that such points to become more valuable.


On the other hand, there are more cases of introducing multiple shared reward points systems at a company. If the member store of shared points systems increases, the points rewarded at the time of purchase can be a matter of course for the members. Therefore, shared point reward service providers are required to add more points or benefits, or add more functions to the smartphone apps, or to improve the added values to the point reward services as a whole.


Research Outline
1.Research Period: March to June, 2019
2.Research Object: Rewarding point issuers, shared point service providers, reward points exchanging service providers, mileage service providers, website operators of loyalty programs, reward points related solution vendors, etc.
3.Research Methogology: Face-to-face interviews by our researchers, survey via email and telephone in combination with literature research
About the Loyalty Programs/Point Reward Service Market
The market of loyalty programs, or point reward services in this research indicate the market of the points or mileage given as a reward of purchasing of products or services provided by the certain companies and groups. The market size is calculated based on the total amount from the reward points issued.


The amount from the reward points issued include those points and mileages issued by the specific companies, and the reward points given when specific payment methods are used (credit cards, electronic money, cashless application, etc.,) and shared reward points available to use at any member stores regardless of the industry or the form of business.


Contact Us
©2019 Yano Research Institute Ltd. All Rights Reserved.
The copyright and all other rights pertaining to this report belong to Yano Research Institute.
Please contact our PR team when quoting the report contents for the purpose other than media coverage.
Depending on the purpose of using our report, we may ask you to present your sentences for confirmation beforehand.