17 Categories of Entire Logistics Industry in Japan: Key Research Findings 2019
17 Categories of Entire Logistics Industry Market Size for FY2018 Estimated to Rise by 5.2% to 22,613,500 Million Yen
Yano Research Institute (the President, Takashi Mizukoshi) has conducted a survey on the 17 categories of entire logistics industry market and has found out the trends by logistics category, the trends of market players, and the future perspectives.
Transition and Forecast of 17 Categories of Entire Logistics Industry Market Size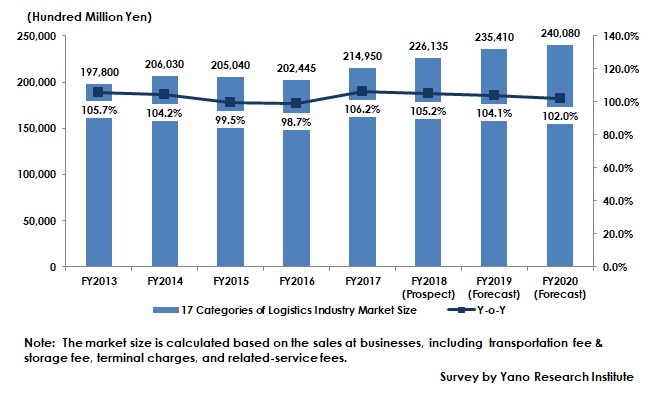 Market Overview
The total market size of 17 categories of logistics industry was estimated to rise by 6.2% from the previous fiscal year to achieve 21,495 billion yen in FY2017.

In addition to domestic growth in the categories of mail-order sales, pharmaceutical products & medical equipment as well as low-temperature food at chain stores, the demands for infrastructure and constructions at the venues of Tokyo Olympics & Paralympics Games in the metropolitan areas have stably increased. Also, international logistics have steadily expanded. The total market size of 17 categories of logistics industry for FY2018 is expected to continue rising by 5.2% to achieve 22,613.5 billion yen, because, in addition to rising tendency of domestic demands, international logistics and distribution continues to be on the rise, in spite of the influence of trade friction between the U.S. and China.

Noteworthy Topics
Logistics business has become specialized into more in details, and multiple of these specialized logistics services are needed to be developed. While the society has been aging, the market of last mile logistics, i.e., the logistics to the final destination to the general consumers and very end users, is expected to grow. Rather than simple transportation of things, the market is likely to go through innovative development to become a part of the livelihood infrastructure with a combination of various services.


While labor shortage has become a social problem in the logistics industry, Smart Logistics that utilize IoT (Internet of Things) and AI (Artificial Intelligence) are to be widely accepted furthermore.


Future Outlook
The total market size of 17 categories of logistics industry for FY2019 is projected to attain 23,541.0 billion yen, 104.0% of the size of the previous year, while the market size for FY2020 to grow at 24,008.0 billion yen, 102.0 % of the size of the preceding year. In addition to favorable conditions of the two largest industries, electronics and automobiles, continuous growth is expected in the categories of industrial machinery, mail order sales, pharmaceutical products & medical equipment, and low-temperature food, together with stable increase in chemicals.


With regard to international logistics, the market of air cargos and marine cargos failed to reach the level of transported quantity just before the collapse of the Lehman's, but is likely to expand in value.


Research Outline
1.Research Period: December 2018 to March 2019
2.Research Object: Domestic leading logistics companies and organizations
3.Research Methogology: Face-to-face interviews by the expert researchers, questionnaire via telephone, and literature research, including surveys using statistical data
17 Categories of Logistics Industry
17 categories of logistics industry include such business as marine transportation, integrated logistics system, domestic home delivery, special loading motor truck transportation, free warehouse, freight forwarding, freight broker, refrigerated warehouse, moving business, airfreight forwarding, railway freight forwarding, light freight delivery, international parcel delivery, rail freight transportation, trunk rooms and peripheral business, motorcycle courier, and consigned delivery.


Contact Us
©2019 Yano Research Institute Ltd. All Rights Reserved.
The copyright and all other rights pertaining to this report belong to Yano Research Institute.
Please contact our PR team when quoting the report contents for the purpose other than media coverage.
Depending on the purpose of using our report, we may ask you to present your sentences for confirmation beforehand.