Aesthetic Medicine Market in Japan: Key Research Findings 2019
Domestic Aesthetic Medicine Market Size for 2017 Achieved 325,200 Million Yen, 114.8% of Market Size in 2014
Yano Research Institute (the President, Takashi Mizukoshi) has conducted a survey on the domestic aesthetic medicine market and has found out the market overview, and the trend of demands.
Transition of Aesthetic Medicine Market Size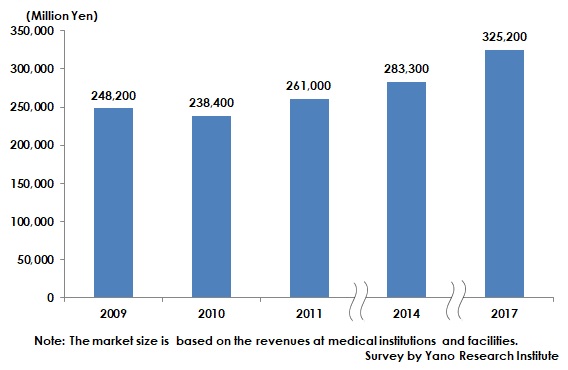 Market Overview
The domestic aesthetic medicine market size, based on the revenues at medical institutions and facilities, achieved 248,200 million yen in 2009, but declined to 238,400 million yen, 96.1% of the size of the previous year in 2010, but has been on the rise since then, achieving 109.5% on a year-to-year basis to 261,000 million yen in 2011, 283,300 million yen, 108.5% of the size of 2011 in 2014, and projected to be 325,200 million yen, 114.8% of the size of 2014 in 2017.

Noteworthy Topics
The demand of the conventional surgical operations for plastic surgery has been declining in aesthetic medicine, but the demand of non-surgical operations are likely to be on the rise. In such a status, dermatologists or general internal medicine that do not have any equipment for surgical operations have started enhancing aesthetic dermatological treatment.


Future Outlook
Aesthetic medicine in the field of internal medicine has started attracting attention as a new medicine that approaches from preventive medicine and that pursues the health, youth and beauty from the inner-side of the human body, unlike the conventional surgical and dermatological treatments. Because increasing demand can be expected for maintaining the beauty and health in and outside of the body for the future, increasing number of medical institutions are likely to expand their realm of internal aesthetic medicine.


Research Outline
1.Research Period: March to May, 2019
2.Research Object: Medical facilities for aesthetic medicine, commodity sales businesses, etc.
3.Research Methogology: Face-to-face interviews by the expert researchers, survey via telephone, mail-in questionnaire, consumer survey, and literature research
Aesthetic Medicine Market
Aesthetic medicine is defined as the medical treatment, operations, and other medical actions for cleansing or beautifying human skins, transfiguring human bodies, reducing weight, and whitening teeth. The domestic aesthetic medicine market size is calculated based on the revenues at medical facilities in this research.


Contact Us
©2019 Yano Research Institute Ltd. All Rights Reserved.
The copyright and all other rights pertaining to this report belong to Yano Research Institute.
Please contact our PR team when quoting the report contents for the purpose other than media coverage.
Depending on the purpose of using our report, we may ask you to present your sentences for confirmation beforehand.