Beverage Container Market in Japan: Key Research Findings 2018
Yano Research Institute (the President, Takashi Mizukoshi) has conducted a survey on the domestic container market trends and has found out the trends by product segment and the trends of market players. This report makes clear of the analyzed results of the major beverage container market.
Transition of Major Beverage Container Market Size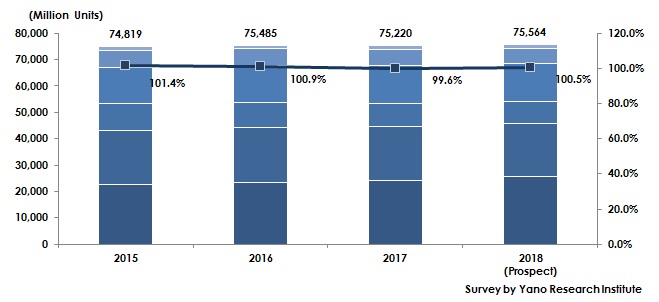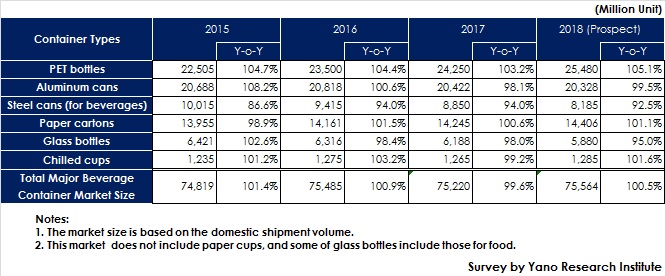 Market Overview
The estimated market size of major beverage containers in 2017, based on the domestic shipment volume, was 75,220 million yen, 99.6% of the size of the previous year. Among them, the PET bottle market showed strong growth of 103.2% on a year-to-year basis. It seemed to be because remarkable sales of PET-bottled coffee beverages encouraged a series of new product releases by leading beverage makers (i.e., brand owners).

On the other hand, the shipment volume of paper cartons was about the same size as the previous year to reach 100.6%, while those of aluminum cans and steel cans for beverages slowed down to 98.1 % and 94.0%, respectively, from the previous year.

Noteworthy Topics
Until recently, the relationship in the paper carton market had been simpler, with four companies (Nippon Paper Industries Co., Ltd., Nihon Tetra Pak K.K., Hokuetsu Package Co.,Ltd., and Ishizuka Glass Co., Ltd.) competing over gable-top carton containers for milk, i.e., the most accepted product, while Nihon Tetra Pak K.K. and Nippon Paper Industries fiercely competing for brick-pack containers. In addition, Toppan and DNP have contended with each other over liquid paper cartons for alcoholic beverages.


In such a status, a big change occurred in 2016 when each of Nippon Paper, DNP, and Hokuetsu Package made alliance with the overseas blue-chip companies, respectively. It was a part of the attempts to add more values to the products to appeal to the user companies including leading beverage makers.


On the other hand, each maker has developed apparently different strategies as follows: Nippon Paper tries to enhance its position in the market to distribute chilled products, while DNP and Hokuetsu Package try to create new business by utilizing their aseptic containers made available for distribution at ambient temperature.


Research Outline
1.Research Period: November to December, 2018
2.Research Object: Plastic light-weight container makers, beverage container makers, and etc.
3.Research Methogology: Face-to-face interviews by our expert researchers and literature research
The Major Beverage Container Market
The major beverage container market in this research indicates the market of major beverage containers including PET bottles, aluminum cans, steel cans, paper cartons (excluding paper cups), glass bottles (some include those for food), and chilled cups. The market size has been calculated based on the domestic shipment volume.


Contact Us
©2019 Yano Research Institute Ltd. All Rights Reserved.
The copyright and all other rights pertaining to this report belong to Yano Research Institute.
Please contact our PR team when quoting the report contents for the purpose other than media coverage.
Depending on the purpose of using our report, we may ask you to present your sentences for confirmation beforehand.