FY2018 Aesthetic Salon Market Projected to Attain 358,700 Million Yen, 100.2 % on Y-o-Y Basis
Yano Research Institute (the President, Takashi Mizukoshi) has conducted a survey on the domestic aesthetic salon market and has found out the trend of treatment by prefecture, the trend of market players and the future perspectives.
Transition of Aesthetic Salon Market Size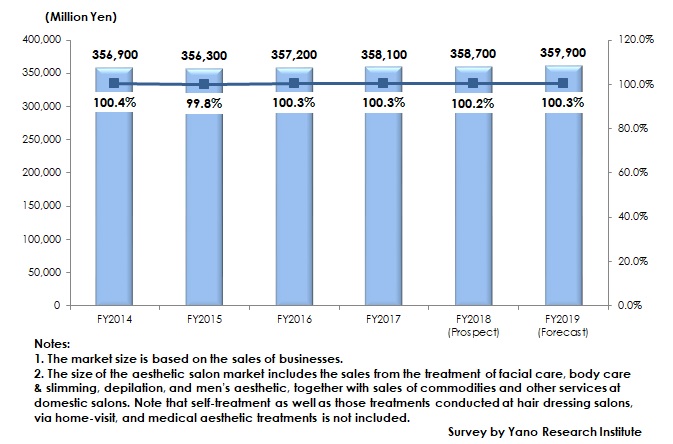 Market Overview
Size of the aesthetic salon market in FY2018, based on the sales of businesses, is projected to achieve 358.7 billion yen, 100.2 % of the size of the previous fiscal year. Although the customers of aesthetic salons are those in middle-to-older ages, reservations and searching through internet have become commonplace and more attempts have been made to use major SNS for advertisement and sending information. It has been important for the salons to use web marketing, such as to analyze the customer trends and take measures to attract more customers.

Noteworthy Topics
Many of aesthetic salon operators have continued their business by integrating and closing down some unprofitable salons to augment the profits of existing stores. The reasons for this are difficulty in securing human resources for store staff and ever fiercer competition with peripheral beauty services and generally available cosmetics enabling self-treatment. Also, it has become difficult to attract young women who can be the next-generation customers. The salon operators have tried to breakthrough such status by newly opening the salons at major department stores, shopping malls and hotels where more customers can be expected, while they actively remodeled and refurbished the existing salons, or even moved to and reopened the salons at more advantageous locations in making profits by attracting more customers and through appropriate allocation of store staff.


Research Outline
1.Research Period: November 2018 to January 2019
2.Research Object: Aesthetic salons, enterprises dealing in aesthetic-salon-related goods
3.Research Methogology: Face-to-face interviews by the specialized researchers, surveys via telephone and email, and mail-in questionnaire
Aesthetic Salon Market
Aesthetic salons in this research indicate those salons that provide treatments for cleansing or beautifying human skins, transfiguring human bodies, and reducing weight, practiced by the aestheticians who use their hand techniques, skin-care products and tools. The size of the aesthetic salon market includes the sales from the treatment of facial care, body care & slimming, depilation, and men's aesthetic, together with sales of commodities and other services at domestic salons. Note that self-treatment as well as those treatments conducted at hair dressing salons, via home-visit, and medical aesthetic treatments is not included.


Contact Us
©2019 Yano Research Institute Ltd. All Rights Reserved.
The copyright and all other rights pertaining to this report belong to Yano Research Institute.
Please contact our PR team when quoting the report contents for the purpose other than media coverage.
Depending on the purpose of using our report, we may ask you to present your sentences for confirmation beforehand.