Global Shipment Volume of Small Motors Expected to Reach 7,452,066 Thousand Units by 2019
Yano Research Institute (the President, Takashi Mizukoshi) has conducted a survey on the global small motors market and has found out the trends of products by segment, the trends of market players, and the future perspectives.
Transition and Forecast of Global Small Motors Market Size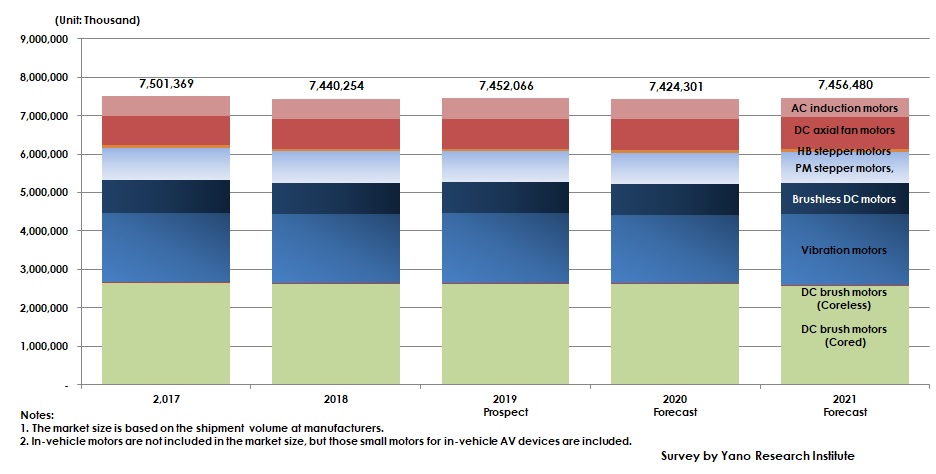 Market Overview
The global small motors market in 2019 is expected to attain 7,452,066 thousand units, 100.2% of the size of the previous year. The market of small motors as whole is considered to expand for the future, because of extensive applications of such small motors together with economic development in China and ASEAN countries. However, the applications such as HDD, ODD and other PC related components as well as printers that used to be called as the "best-selling zone" with large shipment volume has scaled down, which influenced not a few motor makers to reorganize their product portfolios.

Noteworthy Topics
In the emerging countries including China, replacement to brushless DC motors has been in progress in large household electrical appliances as well as in industrial products, stemming from energy-saving demands. Vibration motors have been accelerated to be replaced from cored type to linear ones. The new market of stepper motors for mobile phones is likely to be launched. Also, some Chinese motor makers have started shipping the products of industrial motors, currently only for meeting domestic demand, but are preparing for overseas shipment.


The key for expanding the business of industrial servomotors seems to be to take steps to differentiate for electrification, IoT, datacenters, and 5G base stations.


Future Outlook
Although this research does not include in-vehicle motors, many of the companies dealing in small motors seem to have a tendency of focusing on in-vehicle motors rather than conventional applications. Therefore, shipment volume of in-vehicle small motors is projected to expand stably.


On the other hand, small motors other than those for vehicles are expected to level off or to be slightly on the rise, with the global small motor market size in 2021 projected to be 7,456,480 thousand units, based on the shipment volume at manufacturers.


Research Outline
1.Research Period: December 2018 to February 2019
2.Research Object: Enterprises in the business of motors (small motors and industrial motors)
3.Research Methogology: Face-to-face interviews by the expert researchers and literature research
Global Small Motors Market
The small motors in this research indicate the following types of motors: DC brush motors (cored, coreless), brushless DC motors, vibration motors, PM stepper motors, HB stepper motors, DC axial fans and AC induction motors. The market size is calculated based on the shipment volume at manufacturers in and out of Japan.


In-vehicle motors are not included in the market size, but those small motors for in-vehicle AV devices are included.


Contact Us
©2019 Yano Research Institute Ltd. All Rights Reserved.
The copyright and all other rights pertaining to this report belong to Yano Research Institute.
Please contact our PR team when quoting the report contents for the purpose other than media coverage.
Depending on the purpose of using our report, we may ask you to present your sentences for confirmation beforehand.