Rental Storage/Container Storage/Trunk Room Market in Japan: Key Research Findings 2019
Domestic Storage Service Market Size (Total of Rental Storage, Container Storage and Trunk Rooms) for FY2018 Estimated to Rise by 6.7% to Attain 74,330 Million Yen
Yano Research Institute (the President, Takashi Mizukoshi) has conducted a survey on the domestic market of storage services (rental storage, container storage, and trunk rooms) and has found out the overview and perspectives of each market.
Transition and Forecast of Domestic Market Size of Storage Services (Rental Storage, Container Storage and Trunk Room)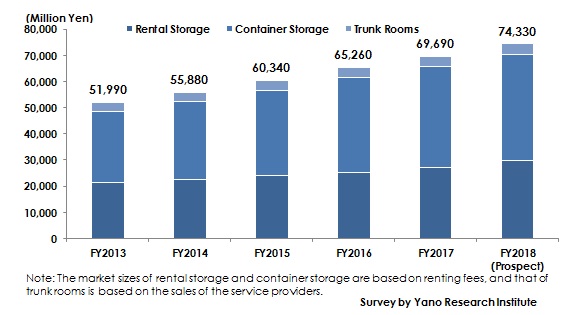 Market Overview
The domestic storage services market (total of rental storage, container storage and trunk room services) for FY2018 has rose by 6.7% to attain 74,330 million yen.

New market players, in addition to local large businesses, have proactively increased the storage service bases, which has expanded the entire market. Continued increase of storage service bases together with expanded demands stemming from improved awareness to general people has contributed to the steady market growth.

Noteworthy Topics
As of the end of December, 2018, the nationwide number of bases for rental storage, container storage, and trunk rooms have reached to 11,500. Within such bases the number of rooms or units countable for rental and container storages is estimated to be 525,000, an increase by about 20.0% from the last research conducted in June, 2016.


The number of rental and container storage units in contrast with the entire 58 million households, according to "Basic Resident Registration System" by the Ministry of Public Management, Home Affairs, Posts and Telecommunications as of the end of January 2018, has become 0.009 per household, which means that one in 110 households uses a storage space offered by the storage service providers.


When limiting to the Tokyo metropolitan areas (which include Tokyo, Chiba, Saitama and Kanagawa prefectures), there are 306,000 units for storage, almost 60 % of the entire number of units. When considering 17.490 million households in the metropolitan areas (according to "Basic Resident Registration System" as of the end of January 2018), the number of storage spaces used per household is 0.017, which means that one in 57 households uses a storage space from storage service providers.


Research Outline
1.Research Period: September 2018 to March 2019
2.Research Object: Leading companies and organizations in the business of storage services, and the data of storage service bases
3.Research Methogology: Face-to-face interviews by the expert researchers, surveys via telephone, field investigation, and literature research
the domestic market of storage services (rental storage, container storage, and trunk rooms)
The storage business in this research indicates a business to lend a room or a space to those who want to store or save their belongings without any purpose to sell. The business in this research is categorized into the following three services: 1) Rental storage services operated mainly by real estate agencies to lend indoor rooms and spaces, including those in storing-only buildings where individuals or corporate bodies can store things. Those safe-deposit boxes operated by banks and those baggage lockers located at railway stations and etc. are not included; 2) Container storage services, similar to rental storage services only that the former rooms and spaces provided are not placed indoors but outdoor containers or those storage made of steel; and 3) Trunk room services operated mainly by warehouse companies to provide trunk rooms, needed to be certified by Ministry of Land, Infrastructure, Transport and Tourism, in which luggage and furniture of individuals can be deposited (limited to the use by the habitants, and therefore, document storage and the use by corporate bodies are not included.)


Contact Us
©2019 Yano Research Institute Ltd. All Rights Reserved.
The copyright and all other rights pertaining to this report belong to Yano Research Institute.
Please contact our PR team when quoting the report contents for the purpose other than media coverage.
Depending on the purpose of using our report, we may ask you to present your sentences for confirmation beforehand.