Pet Related Business in Japan: Key Research Findings 2019
FY2018 Pet Related Business Size Expected to Attain 1,542.2 Billion Yen, Due to Diversification of High-Value Added Products
Yano Research Institute (the President, Takashi Mizukoshi) has conducted a survey on the domestic pet-related business market and has found out the market trends by segment, and the trends of market players, and the future perspectives.
Transition and Forecast of Size of Overall Pet Business Market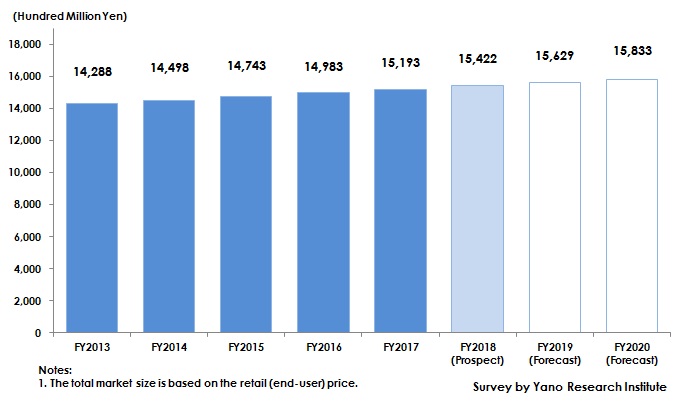 Market Overview
The overall pet related business market in FY2017 has been projected to attain 1,519,300 million yen, 101.4% on a year-over-year basis and 1,542,200 million yen by FY2018, 101.5% on the same basis, both based on the retail (end-user) price.
According to Japan Pet Food Association, the number of dogs kept as pets has been on the decline during the past five years, while the number of cats as pets has been almost the same level. In a status where the number of pets declining as a whole, the pet related business market has continued expanding because of the products for pets have been diversified, such as pet food pursuing organic, some high-grade pet food aiming to extend the lives of the pets, and soft snacks for aged pets to easily bite and swallow.

Noteworthy Topics
As a kind of communication food, snacks for dogs have been stably popular, contributing to marginally growth of the market.
In recent years, dental and oral care of dogs has become recognized as significant to keep the health. Some gum products for dogs to keep dental health and to prevent oral odor have been expanding as a result of the efforts by the market players in building awareness among owners and in releasing new products.
In addition, aging pets and increasing popularity of small dogs have encouraged the makers to release smaller products and softer food for dogs with weak bites. Also, in addition, to general pet food, each maker has released health conscious products such as pet food with low fat, low salt, no additives, and domestically produced, or those emphasized as safe and secure.


Future Outlook
The pet related business market for FY2019 is projected to slightly on the rise to achieve 1,562,900 million yen, and 1,583,300 million yen by FY2020.
Each pet food maker has enhanced their products by promoting some of pet food as a method to communicate with pets, and by uploading some movies of those pets consuming the food they developed at SNS. On the other hand, each maker of products for pets has been strengthening some rucksack-type pet carriers as they have become popular for usefulness at the time of emergency evacuation.
As pets becoming closer existence as one of the family members, the business for the market players are expected to expand for the future, as each maker stimulates the potential demand of the owners by suggesting new products and new opportunities for the owners to use more products for pets. Therefore, the market is likely to continue expanding robustly.


Research Outline
1.Research Period: December 2018 to March 2019
2.Research Object: Manufacturers, wholesalers, retailers of pet foods and some goods for pets
3.Research Methogology: Face-to-face interviews by the expert researchers, surveys via telephone, and literature research
The Pet Related Business
Pets in this research indicate mainly cats and dogs, together with other live animals sold at pet shops. The pet related business market consists mainly of pet foods and the goods for pets, pets themselves, and the services for pets including pet grooming services, medical services, insurances, hotels, and etc.


Contact Us
©2019 Yano Research Institute Ltd. All Rights Reserved.
The copyright and all other rights pertaining to this report belong to Yano Research Institute.
Please contact our PR team when quoting the report contents for the purpose other than media coverage.
Depending on the purpose of using our report, we may ask you to present your sentences for confirmation beforehand.