High-Performance Packaging Materials Market in Japan: Key Research Findings 2019
High-Performance Packaging Materials Market for 2018 Slightly Rose to 779,185 tons, 101.0% of Previous Year
Yano Research Institute (the President, Takashi Mizukoshi) has conducted a survey on the domestic high-performance packaging materials market and has found out the trends of products by segment, the trends of market players, and the future outlook.
Transition and Forecast of High-Performance Packaging Materials Market Size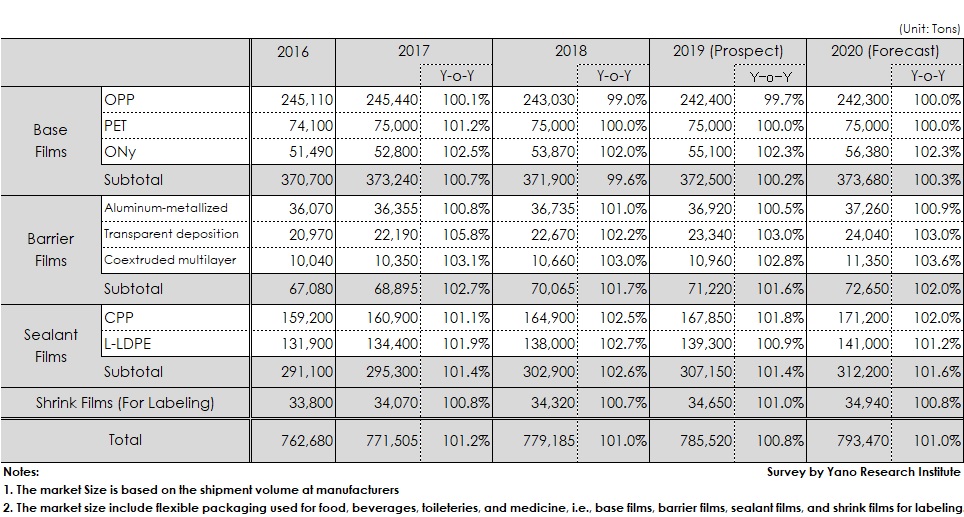 Market Overview
The high-performance packaging materials market size for 2018 (domestic shipment volume as well as exported volume) rose to 779,185 tons, 101.0% of that of the previous year. While sealant films and barrier films showed stable growth as the former rose by 2.6% and the latter by 1.7% from the previous year, shrink films managed to grow by 0.7%, but base films declined by 0.4% from the preceding year.

Flexible packaging has been widely accepted, as it has been evaluated highly for its lightness in weight and easily disposable after use, which has encouraged replacing food cans into retort pouch, and plastic-bottled toiletries into pouches. In addition, growing needs to add barrier function to pouches in order to extend the freshness and expiration date of the package contents, i.e., food, as a way to cope with food losses and waste, led sealant films and barrier films to grow.

On the other hand, base films and shrink films (for labeling) has progressively thinned, which led the market size in volume to be the same level as previous years.

Noteworthy Topics
In Japan, domestic flexible packaging makers have emphasized their advantage of their products as environmentally-friendly in that they can shrink, so that they, together with the contents, do not take up room when throw them away compared with formed containers such as glass or plastic bottles and cans. The environmental strategy taken by such makers has been to reduce the volume as well as the capacity of the containers by thinning down and reducing the weight of the materials. However, as global attempts of abolishing plastics have been in progress, the makers are required to shift the environmental strategy.


Flexible packaging has achieved high-performance by combining films with different properties such as those equipped with strength, barrier property, and easy-to-open. Therefore, it is more difficult for flexible packaging to be recyclable than the containers made from single material such as PET bottles, metal tins, and food trays. Further, flexible packaging has been disposed as plastic garbage after use, and because it has had an advantage of being easily disposable, no method of collecting and recycling of flexible packaging established. This has made it difficult for flexible packaging to be eco-friendly.


Future Outlook
In recent years, the domestic long-hour working conditions regardless of male or female (prior to "Working Style Reform" taken effect), have generated various issues including one-operation child care (mothers typically take on all child care tasks as well as the domestic chores, even if they have a full-time job), vast volume of food loss and waste represented by "Eho-maki sushi roll" eaten during Setsubun season that has mass produced and wasted, and significant labor shortage at each industry. Many packaging-material users, i.e, the makers as well as the retailers of food & beverages and toiletry contents etc., have come to drawn attention of how they solve the above-mentioned issues. In this respect, the packaging materials, too, plays an important role whether they can provide new solution to help reduce the labor of cooking or washing, rather than their conventional role of improving the value of the contents.


Research Outline
1.Research Period: January to March, 2019
2.Research Object: Companies related with soft packaging materials (film makers, converters)
3.Research Methogology: Face-to-face research by the expert researchers, and literature research
the Market of High-Performance Packaging Materials
The high-performance packaging materials market in this research indicates the market of the following films: Base films for soft packaging (OPP films, PET films, and ONy films), Barrier films (aluminum-metallized films, transparent vapor deposition films, and coextruded multilayer films), sealant films (l-LDPE films, CPP films), shrink films for labeling. The market size is calculated based on the shipment volume at the domestic manufacturers of the above-mentioned items. The market size includes domestic shipment as well as those exported.


Contact Us
©2019 Yano Research Institute Ltd. All Rights Reserved.
The copyright and all other rights pertaining to this report belong to Yano Research Institute.
Please contact our PR team when quoting the report contents for the purpose other than media coverage.
Depending on the purpose of using our report, we may ask you to present your sentences for confirmation beforehand.