Cloud Services Market in Japan: Key Research Findings 2019
Yano Research Institute (the President, Takashi Mizukoshi) has conducted a survey on the domestic cloud services (IaaS/PaaS) market and has found out the transition and forecast of the market size, the trends of cloud service vendors, and prevalence of the new services.
Table & Figure: Transition and Forecast of Cloud Platform Services (IaaS/PaaS) Market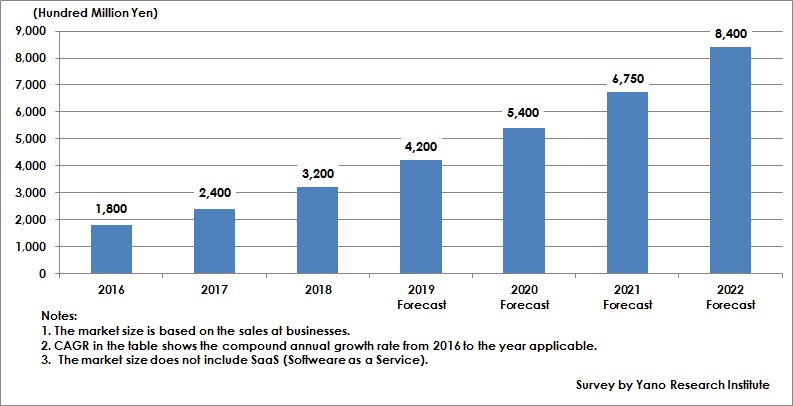 Market Overview
The cloud services (IaaS and PaaS) market in 2018 based on the sales at the businesses has grown remarkably by 33.3% from the previous year to attain 320,000 million yen.

Use of cloud services has become general among middle-size enterprises with the annual turnover some tens of billion yen. Use of hybrid cloud systems which consist of public cloud, private cloud and on premise that are used accordingly, have been on the rise as well.

Noteworthy Topics
Cloud services (IaaS and PaaS) used as the basis of DX, or digital transformation, which brings about new values to the enterprises by utilizing the technologies of IoT and AI have not been effective than expected, where the attempt of using the services has generally ended up as PoC (Proof of Concept) as of 2018. Nevertheless, some efforts to implement DX into business have begun burgeoning in the latter half of 2018. Together with expansion of PaaS, DX can be one of the great factors to grow the cloud services market in 2019.


Considering such a status, the domestic cloud services (IaaS and PaaS) market in 2019, based on the sales at the businesses, is likely to attain 420,000 million yen, 131.3% of the size of the previous year.


Research Outline
1.Research Period: November 2018 to March 2019
2.Research Object: Domestic cloud service providers, domestic private-sector businesses, and etc.
3.Research Methogology: Face-to-face interviews by the expert researchers, survey via telephone and e-mail, and mailed questionnaire
Both IaaS (Infrastructure as a Service) and PaaS (Platform as a Service) in this research indicate public cloud platforms (cloud platforms provided by service providers) where virtualization, automation, and other technologies are provided to users via internet. The market size is calculated based on the sales of businesses. Note that SaaS (Software as a Service) is not included in this research.


Contact Us
©2019 Yano Research Institute Ltd. All Rights Reserved.
The copyright and all other rights pertaining to this report belong to Yano Research Institute.
Please contact our PR team when quoting the report contents for the purpose other than media coverage.
Depending on the purpose of using our report, we may ask you to present your sentences for confirmation beforehand.