Hospital Equipment and Devices Market in Japan: Key Research Findings 2018
Domestic Hospital Equipment and Devices Market for FY2018 Rose by 1.9% to Achieve 175,313 Million Yen
Yano Research Institute (the President, Takashi Mizukoshi) has conducted a survey on the domestic hospital equipment and devices market and has found out the transition and forecast of market size, the trends by product type and by function, and the influences received from new products releases.
Transition and Forecast of Domestic Hospital Equipment and Devices Market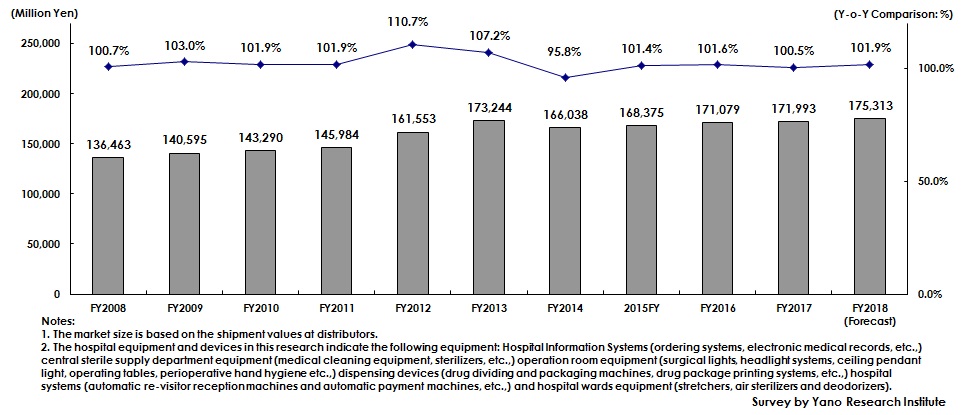 Market Overview
This report refers to major hospital facilities and equipment at HIS (Hospital Information Systems), CSSD (central sterile services department), operational rooms, dispensing, hospital wards, and etc.
When looking at the transition of the domestic hospital equipment and devices market, because the additional medical safety measurement was included in FY2008 Revision of the Medical Payment System, more expenses have become newly needed for securer structures in medical institutions as a whole, which could diminish the budget for hospital equipment and devices. To the contrary, however, ever since the fund for revitalizing local medical care has been established in each prefecture in FY2009, the emergency care systems and advanced medical care have become available at key hospitals which expanded the market especially in the category of equipment for operation rooms and central sterile supply department, while local large hospitals have been integrated and restructured. For the future, the market may face predicament, as large hospitals and university hospitals have somewhat finished extending, reconstructing, and newly construct their facilities, though some of mid-size hospitals with 200 to 400 beds are expected to plan their extension and reconstruction.

The domestic hospital equipment and devices market for FY2017 is likely to attain 171,993 million yen, 100.5% of the size of the previous fiscal year (based on the shipment values at distributors). Out of 27 products, those that exceeded the previous fiscal year were only 11. The market size for FY2018 is estimated to be 175,313 million yen, 101.9% of the previous fiscal year.



Noteworthy Topics
The maceration system units that drain and crush the contents-included disposable toilet bowels made of recycled paper have started being introduced into hospitals. Currently, the units are developed by two companies and have been expected by many who concerned to contribute to in-hospital infection control and therefore, attracted attention for further prevalence.


Research Outline
1.Research Period: July 2018 to March 2019
2.Research Object: Hospital equipment makers
3.Research Methogology: Face-to-face interviews by the specialized researchers, survey via telephone and literature research
Hospital Equipment and Devices Market
The hospital equipment and devices in this research indicate the following equipment: Hospital Information Systems (ordering systems, electronic medical records, etc.,) central sterile supply department equipment (medical cleaning equipment, sterilizers, etc.,) operation room equipment (surgical lights, headlight systems, ceiling pendant light, operating tables, perioperative hand hygiene etc.,) dispensing devices (drug dividing and packaging machines, drug package printing systems, etc.,) hospital systems (automatic re-visitor reception machines and automatic payment machines, etc.,) and hospital wards equipment (stretchers, air sterilizers and deodorizers).


Contact Us
©2019 Yano Research Institute Ltd. All Rights Reserved.
The copyright and all other rights pertaining to this report belong to Yano Research Institute.
Please contact our PR team when quoting the report contents for the purpose other than media coverage.
Depending on the purpose of using our report, we may ask you to present your sentences for confirmation beforehand.