Health Food Market in Japan: Key Research Findings 2019
Yano Research Institute (the President, Takashi Mizukoshi) has conducted a survey on the domestic health food market and has found out the market trends by segment, the trends of market players, and the future perspectives.
Figure 1: Transition of Health Food Market Size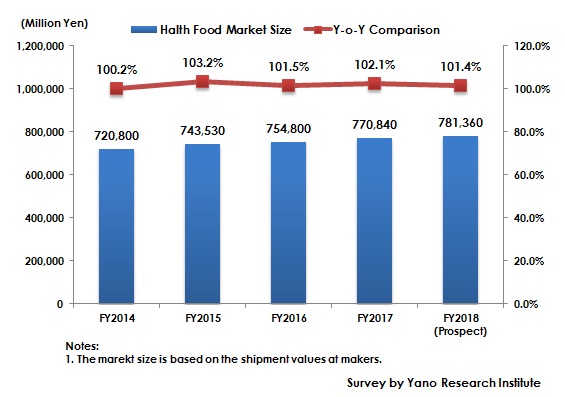 Figure 2: Transition of Foods with Function Claims Market Size and Composition Ratio of Such Foods by Type in FY2017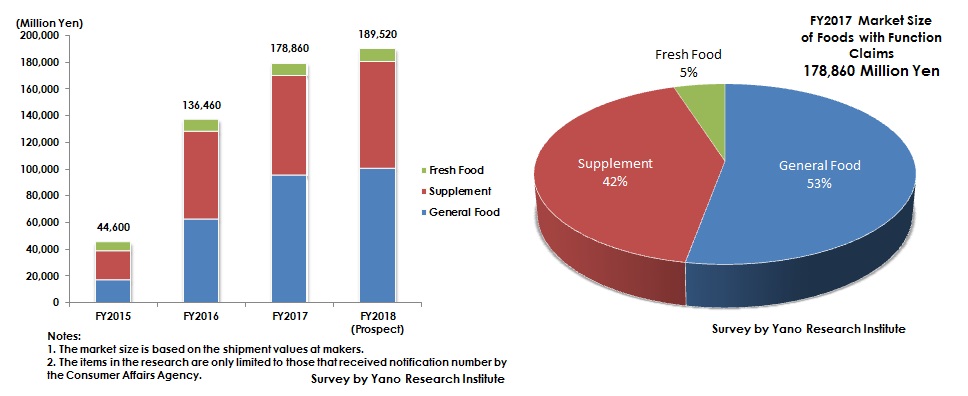 Market Overview
Size of the domestic health food market for FY2017 is estimated to rise by 2.1%from the previous fiscal year to achieve 770,840 million yen, based on the shipment values at manufacturers. As growth of the health food market has slowed down in recent years, and as the competition among domestic companies has become fiercer, a clear difference has begun shown among the market players between those attaining good sales performance and those that do not. Nevertheless, favorable inbound tourism demand and expansion of the Foods with Function Claims market have contributed to raise the entire health food market.

The market for FY2018 is projected to continue growing, with the market size estimated to increase by 1.4% from the preceding year to achieve 781,360 million yen.

Noteworthy Topics
The market size of Foods with Function Claims rose by 31.1% from the previous fiscal year to reach 178,860 million yen in FY2017, and is likely to increase by 6.0% on a year-to-year basis to attain 189,520 million yen by FY2018. This indicates that the market for FY2018 is expected to continue expanding, though the growth rate may slow down.


While increasing number of items is admitted as Foods with Function Claims, some of such products have already been discontinued due to severer competition and sales slump. Especially, confectionery, soft drinks, and other processed food with higher palatability have such a tendency. In addition, it is difficult for such foods to sell well or even to be visually recognized by the consumers at supermarkets, convenience stores and drugstores where so many varieties of products are sold. Whether such Foods with Function Claims can attain good sales or not seems to largely depend on whether the makers have the communication strategy for the function claims or not. Even the mail-order sales of those Foods with Function Claims may be sluggish if no proactive promotional activities are conducted.


Research Outline
1.Research Period: August 2018 to February 2019
2.Research Object: Health food manufacturers and distributors (health food manufacturers, general food manufacturers, and pharmaceutical manufacturers), health food organizations, and the authorities concerned
3.Research Methogology: Face-to-face interviews by the specialized researchers, surveys via telephone/mailed or emailed questionnaire, and literature research
The Health Food Market
Health food in this research indicates the food in the forms of tablets, capsules, powder, or bottled liquid, aiming for health maintenance and promotions, and beauty.


Contact Us
©2019 Yano Research Institute Ltd. All Rights Reserved.
The copyright and all other rights pertaining to this report belong to Yano Research Institute.
Please contact our PR team when quoting the report contents for the purpose other than media coverage.
Depending on the purpose of using our report, we may ask you to present your sentences for confirmation beforehand.