BPO (Business Process Outsourcing) Market for Local Governments in Japan: Key Research Findings 2018
Market Size of BPO Services for Local Governments Projected to Reach 5,212.7 Billion Yen in FY2023
Yano Research Institute (the President, Takashi Mizukoshi) has conducted a survey on the domestic BPO service market for local governments and has found out the market trends by category, the trends of market players, and the future perspectives.
Figure: Transition and Forecast of BPO (Business Process Outsourcing) Market Size for Local Governments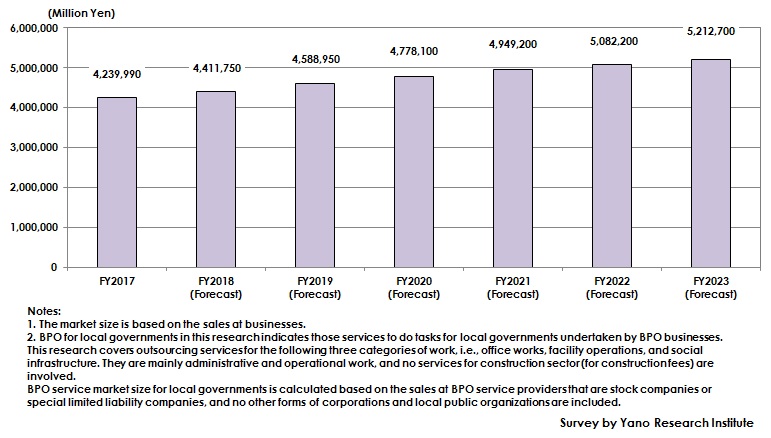 Market Overview
The domestic BPO (Business Process Outsourcing) market for local governments in FY2017 rose by 3.2% from the previous fiscal year to have attained 4,239.99 billion yen, based on the sales at the enterprises. While the procedures and operations needed by the local government diversify, the number of public workers has been on the fall to increase the labor per worker. In addition, the business operated by local governments cannot easily scale down, though the number of users of the business has decreased. For such reasons, outsourcing services using the knowledge and capital from the private sector have been growing.

Noteworthy Topics
Although the PFI Act concessions have come to let private companies to operate water service business, few companies are able to cover each of all the water service processes from designing to meter reading one by one (micro-management). Therefore, each of these tasks is likely to be conducted by the existing water utilities. Rather than management of piping systems and other parts of the water service, the PFI concessions allow private companies (BPO businesses) to manage the whole operation (macro management) of the water service.


Research Outline
1.Research Period: November 2018 to February 2019
2.Research Object: BPO service providers for local governments
3.Research Methogology: Face-to-face interviews by the expert researchers, literature research, and data collection
BPO (Business Process Outsourcing) Market for Local Governments
BPO for local governments in this research indicates those services to do tasks for local governments undertaken by BPO businesses. This research covers outsourcing services for the following three categories of work, i.e., office works, facility operations, and social infrastructure. They are mainly administrative and operational work, and no services for construction sector (for construction fees) are involved.


BPO service market size for local governments is calculated based on the sales at BPO service providers that are stock companies or special limited liability companies, and no other forms of corporations and local public organizations are included.


Outsourcing of office work includes various back-office works at local governments which are regarding: Counter services, general affairs, HR, accounting, My Number systems, family register and residents' cards, national health insurance, insurance for the elderly, welfare service for people with disabilities, provisional welfare benefit, public assistance, tax matters, cleaning of government building, garbage collection and recycling, school affairs, school lunches and etc. However, no IT tasks such as development, maintenance, and operation services of information systems are included.


Outsourcing of facility operations includes management and operations of: Libraries, sports facilities, parks, museums, culture halls and city halls, welfare centers, homes for the elderly, roadside stations, accommodation facilities, public housing, community buses. No services for construction sector (for construction fees) are involved.


Outsourcing of social infrastructure is limited to those services that can be covered in the PFI Act concessions, i.e. water services, industrial water supplies, transportation (on land), electricity, gas, hospitals, and sewage. (Rural water systems and sewage that can be applied to the PFI Act are included in the market size.)


Published Report
Contact Us
©2019 Yano Research Institute Ltd. All Rights Reserved.
The copyright and all other rights pertaining to this report belong to Yano Research Institute.
Please contact our PR team when quoting the report contents for the purpose other than media coverage.
Depending on the purpose of using our report, we may ask you to present your sentences for confirmation beforehand.