Lighting Fixture Market in Japan: Key Research Findings 2018
Yano Research Institute (the President, Takashi Mizukoshi) has conducted a survey on the domestic lighting fixture market and has found out the general-use lighting fixture market overview, the trends of the market players, and the future outlook.
Figure1. : Transition of General-Use Lighting Fixture Market Size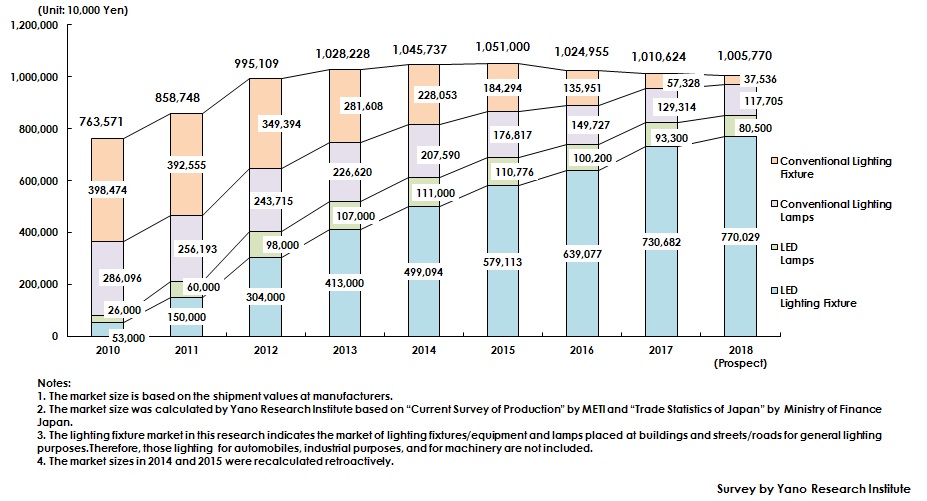 Figure2. Forecast of LED Lighting Market Size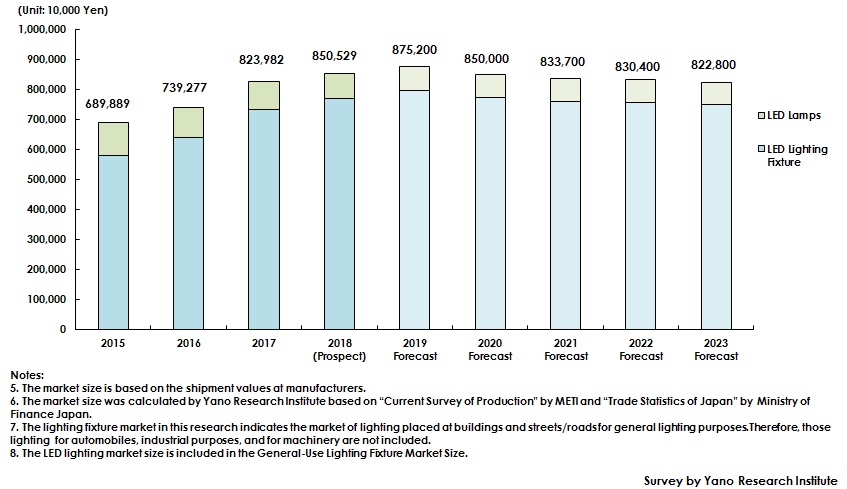 Market Overview
Size of the domestic lighting fixture market for general lighting purposes in 2017 is projected to fall by 1.4% from the previous year to attain 1,010.624 billion yen (based on the shipment values at manufacturers). The market in 2018 is likely to decline by 0.5% to be 1,005.770 billion yen. Although the LED lighting market is expected to rise by 3.2% from the previous year and to grow continuously, the diminishing conventional light sources market (total of lighting fixture and lamp) is projected to deter expansion of the entire market.

Noteworthy Topics
In the New Growth Strategy issued after cabinet decision in 2009, the government has set the goal of SSL (Solid State Lighting) to occupy 100% in the shipment of entire lighting fixture. The ratio of LED lighting fixture, a part of SSL fixture, for general lighting purposes has come to occupy more than 90% by 2017, and more than 95% by 2018, almost achieving the goal of 100% two years ahead of the schedule. Therefore, the shift to LED lighting fixture for general lighting purposes has been in progress faster than imagined. Whether or not SSL lighting fixture can attain 100% in the existing luminaire market (including both shipment and stocked products), which can be the next goal for the government, attracts attention.


Research Outline
1.Research Period: October 2018 to January 2019
2.Research Object: Lighting fixture manufacturers, etc.
3.Research Methogology: Face-to-face interviews by the specialized researchers and literature research
Lighting Fixture Market
The lighting fixture market in this research indicates the market of lighting fixtures/equipment and lamps using conventional light sources (incandescent lights, fluorescent lights, and high-pressure discharge lamps) and LEDs placed at buildings and streets/roads for general lighting purposes. The market consists of the following categories: 1) Lighting fixtures using conventional light sources, 2) Lamps using conventional light sources, 3) LED lighting fixtures, and 4) LED lamps. The market size was calculated by Yano Research Institute based on "Current Survey of Production" by METI and "Trade Statistics of Japan" by Ministry of Finance Japan. Those lighting fixtures/equipment for automobiles, industrial purposes, and for machinery are not included.


Contact Us
©2019 Yano Research Institute Ltd. All Rights Reserved.
The copyright and all other rights pertaining to this report belong to Yano Research Institute.
Please contact our PR team when quoting the report contents for the purpose other than media coverage.
Depending on the purpose of using our report, we may ask you to present your sentences for confirmation beforehand.