Baby Goods and Service Market in 2017 Rose by 6.7% on Y-o-Y Basis to Attain 4,001,900 Million Yen

Yano Research Institute (the President, Takashi Mizukoshi) has conducted a survey on the domestic market of goods and services relating to babies and giving birth, and has found out the market trends of baby goods and services by category, trends of market players, and the future outlook.
Figure: Transition and Forecast of Baby Goods and Service Market Size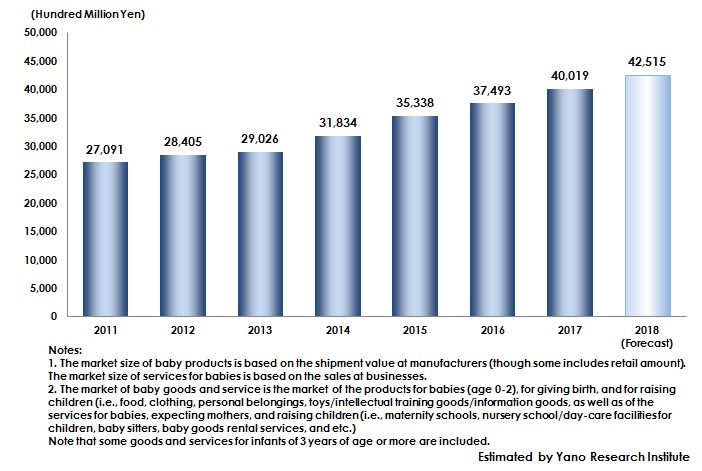 Market Overview
The domestic market of baby-related goods and services in 2017 rose by 6.7% from the previous year to achieve 4,001.9 billion yen.

In spite of the difficult environment with the number of births declining, the sales of some products have turned for the better to increase the sales from what had been on the fall, because of robust inbound tourism demand caused by increasing number of foreign visitors. On the other hand, enhancement of child care services aiming to solve the issue of children on waiting lists for nursery schools has been in progress, which expanded the market of nursery and pre-primary schools and boosted the entire baby-related goods and services market.

Noteworthy Topics
Baby Tech is a coined word of "baby" and "technology", and is a generic name for products and web services to support raising children utilizing IT technologies. Note that Baby Tech products in this research indicate those products and services relating to smartphone applications.


While awareness and acceptance of Baby Tech products are extremely low in Japan, there are many such products in US and Europe primarily for household goods to help mothers raise their babies: Baby bottle warmer & steam sterilizer enabling to warm formula at perfect temperature, sterilize the bottle after feeding, and manage the feeding time; Wearable products with the function of measuring body temperature or of health management; and Child seats available of monitoring functions.


Such a global trend has partly propagated in Japan where new styles of raising babies that can reduce parenthood burdens by using IT technologies and mobile devices have started attracting attention.


Some nursery schools in Japan have already adopted the system to monitor children aiming to secure safety for toddlers, and to help reduce the workload of childcare workers during when the children are taking a nap. In addition, recently, a major baby-goods provider has rolled out the products that can align with smartphone applications.


For the future, while the market in Japan faces an influx of Baby Tech products from US and Europe, more of such products are likely to be developed by Japanese companies. In order for Baby Tech products to be well accepted in the Japanese market, it is essential to improve the awareness and prepare the environment to be used as a tool to safely raising children.


Research Outline
1.Research Period: October to December, 2018
2.Research Object: Companies developing goods and services for babies, expecting mothers and raising children
3.Research Methogology: Face-to-face research by the expert researchers, surveys via telephone, and mail-in questionnaire
The domestic baby goods and service market
The domestic baby goods and service market in this research indicates the market of goods for babies (age 0-2), giving birth, and raising children (i.e., food, clothing, personal belongings, toys/intellectual training goods/information goods, as well as of the services for babies, expecting mothers, and raising children (i.e., maternity schools, nursery school/day-care facilities for children, baby sitters, baby goods rental services, and etc.)


Note that some goods and services for infants of 3 years of age or more are included.


Contact Us
©2019 Yano Research Institute Ltd. All Rights Reserved.
The copyright and all other rights pertaining to this report belong to Yano Research Institute.
Please contact our PR team when quoting the report contents for the purpose other than media coverage.
Depending on the purpose of using our report, we may ask you to present your sentences for confirmation beforehand.