Global Number of Motorcycles Produced to Attain 74,000 Thousand by 2025, Out of Which Electric Motorcycles to Reach 1,700 Thousand
Yano Research Institute (the President, Takashi Mizukoshi) has conducted a survey on the global motorcycle market and has found out the market overview and business strategies by each maker for 2017 and global market size by device and by combustion engine cylinders size for 2025.
Forecast of Number of Global Motorcycles Produced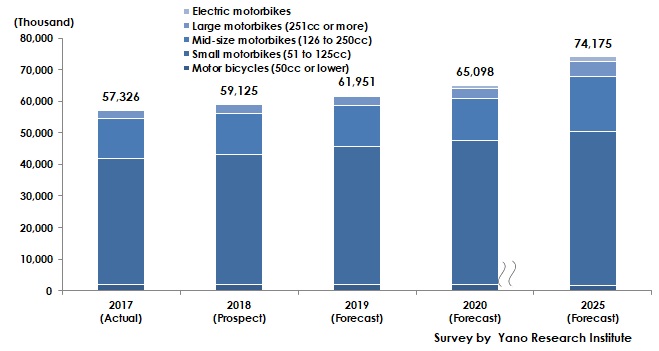 Market Overview
The number of motorcycles produced throughout the world in 2017 was 57,326 thousand. When considering the transition of preceding production, this number has been on the fall. It is because the motorcycle market in Indonesia, Thailand, and other ASEAN countries has been saturated, and because the demand in China has shifted from two-wheel to four-wheel vehicles due to improved income standards.

On the other hand, according to "World Population Prospects: The 2017 Revision" the global population is likely to exceed 8 billion by 2030, about 90% of which is dominated by newly emerging countries. Whereas four-wheel automobiles are difficult to be well accepted in expanding population in newly emerging countries due to too large expenses for purchase, maintenance, and management, two-wheel vehicles have more potential to expand as a new transportation method in those countries because of relatively lower expenses needed.

The number of electric motorcycles (excluding electric bicycles) produced was limited to 254 thousand, not a large number due to the price and performance, the market is expected to expand as a new transportation method particularly in urban areas.

Noteworthy Topics
Number of motorcycles produced in India, the world's largest motorcycle country, was approximately 22,230 thousand and those sold was about 20,190 thousand in 2017. Although the demand for four-wheel vehicles have also increased in the country, traffic jams in cities and poor road conditions in rural areas led to increase the demand for two or three-wheel vehicles, which resulted in both four-wheel and two-wheel vehicles to grow at the same time.


Bharat stage IV, the current emission standard norm in India, corresponding to Euro4, is projected to be replaced by Bharat Stage6, counterpart of Euro5, in 2020. The government of India has set its goal of the sales ratio of EV to account for 15% or 3,500 thousand to 5,000 thousand in number by 2020, and 30% by 2030.


In India, where the population could surpass that of China's by 2024, it is unrealistic for expensive automobiles (four-wheel vehicles) to be well accepted by the whole nation. According to the research by NCAER (National Council of Applied Economic Research) low-income class with the annual income less than 200 thousand INR (about 300 thousand yen) dominates 80% or more of all households in India. It is likely that two-wheel vehicles continue being in use as the main transportation method by most of the Indian nation for the coming future.


Research Outline
1.Research Period: September to December, 2018
2.Research Object: Motorcycle makers, suppliers, and related organizations
3.Research Methogology: Face-to-face interviews by the expert researchers, survey via telephone/email, and literature research
Motorcycle Market
A motorcycle is defined as a 2-wheel or 3-wheel vehicle with its propulsion usually provided by an internal combustion engine and an electric motor. This report includes only those using internal combustion engines and electric motors, i.e., motorized bicycles (up until 50cc), Small motorcycles (51 to 125cc), mid-size motorcycles (126 to 250cc), large motorcycles (251cc or more), and electric scooters. Trikes and other three-wheel motorcycles, electric bicycles or e-bikes that need to be pedaled, and transportation supporting mobility, i.e., the Segway, electric kick scooters, and etc. are not included.


<Products and Services in the Market>
Motorcycles using internal combustion engines and electric motors, i.e., motorized bicycles (up until 50cc), Small motorcycles (51 to 125cc), mid-size motorcycles (126 to 250cc), large motorcycles (251cc or more), and electric scooters
Contact Us
©2019 Yano Research Institute Ltd. All Rights Reserved.
The copyright and all other rights pertaining to this report belong to Yano Research Institute.
Please contact our PR team when quoting the report contents for the purpose other than media coverage.
Depending on the purpose of using our report, we may ask you to present your sentences for confirmation beforehand.