Sports Apparel Market in 2018 Based on the Domestic Shipment Value Projected to Attain Positive Growth
Yano Research Institute (the President, Takashi Mizukoshi) has conducted a survey on the domestic sports apparel market and has found out the market size by sports category, the trend of market players, trends of logistics, and future perspectives.
Figure 1. Transition of Sports Apparel Market Size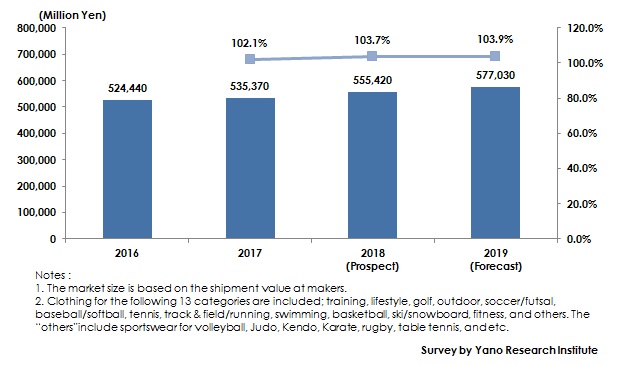 Market Overview
Size of the 2018 domestic sports apparel market, based on the domestic shipment value at manufacturers, is projected to attain 555,420 million yen, 103.7% of that of the previous year. Although the market size has declined in the categories of baseball & softball, tennis, and basketball, that of the other categories has risen steadily to exceed the previous-year results. Especially, clothing for both lifestyle and outdoor has shown double-digit growth from the previous year.

Noteworthy Topics
The favorable performance of clothing for lifestyle and outdoor stems from the recent fashion trends which combine the elements of sports into everyday fashion & lifestyle, reflected in the recent attention-attracting style of "Athleisure," a coined word from athletic and leisure.


The domestic lifestyle clothing market size for 2018 is projected to rise by 10.9% from the previous year to attain 47,660 million yen, whereas the domestic outdoor clothing market also to increase by 10.4% to achieve 107,010 million yen, both expected for remarkable growth from the preceding year.


Each maker has established new series of high-function clothing with the designs and colors useful to put on for daily lives. These series have been rolled out at makers' directly-operated stores located in the trade areas where customers are relatively easy to be induced to buy, and also at fashion-conscious select shops with ability to make attractive proposals to customers. Sports goods mass retailers have also expanded their sales floors for lifestyle clothing to attract consumers.


As the popularity of sports-and-lifestyle-merged fashion is likely to continue for the time being, the market for the category is expected to keep on expanding.


Research Outline
1.Research Period: September to December, 2018
2.Research Object: Sports related enterprises (manufacturers, wholesalers, and retailers)
3.Research Methogology: : Face-to-face interviews by the expert researchers, telephone/email surveys, and in-mail questionnaire
The sports apparel market in this research indicates the market of clothing for the following 13 categories; training, lifestyle, golf, outdoor, soccer/futsal, baseball/softball, tennis, track & field/running, swimming, basketball, ski/snowboard, fitness, and others. The "others" include sportswear for volleyball, Judo, Kendo, Karate, rugby, table tennis, and etc.


<Products and Services in the Market>
Clothing for training, lifestyle, golf, outdoor, soccer/futsal, baseball/softball, tennis, track & field/running, swimming, basketball, ski/snowboard, fitness, and others.
Contact Us
©2019 Yano Research Institute Ltd. All Rights Reserved.
The copyright and all other rights pertaining to this report belong to Yano Research Institute.
Please contact our PR team when quoting the report contents for the purpose other than media coverage.
Depending on the purpose of using our report, we may ask you to present your sentences for confirmation beforehand.