Rental Conference Room Market in Japan: Key Research Findings 2018
Yano Research Institute (the President, Takashi Mizukoshi) has conducted a survey on the space utilization market and has found out the trends of companies by each space business, and by real estate. Here is the report on the market of rental conference rooms.
Transition of Rental Conference Room Market Size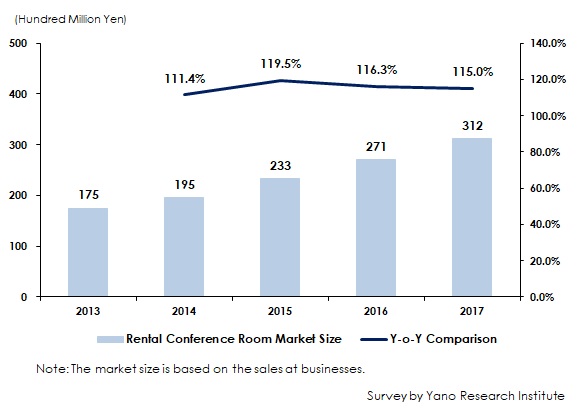 Summary of Research Findings
The rental conference room market size in 2017 was 31,200 million yen, 115.0% of the size of the previous year. The recent rental conference room market has been predominated by the few of large companies and the rooms have become gradually saturated in Tokyo. Still, the demand for rental conference rooms has spread to Nagoya and Osaka areas, which is expanding the entire market. On the other hand, the growth rate has slightly slowed down due to difficulty of securing properties

Noteworthy Topics
In recent years, many ventures have launched a business to seek new values to the spaces that have not been utilized before. Many of such companies have built a business model via matching. The business model is usually to help making a match through a website between those who want to rent a vacant space and those who want to earn income by lending such space. When the both sides are successfully met, the enterprise that helped making a match receives a certain amount as a commission fee from the expense paid by the renter of the space.

There have been various services generated in order to respond to diverse objectives of space users, for instance, a service to publish the information of various spaces including rental conference rooms, kitchens, and etc., to make a match; a service to gain a certain profit from the users by providing a platform of lending a small space within a store e.g., to place baggage; and a service to lend a space of a house that can park a car as a short-time parking lot.

Research Outline
1.Research Period: July to October, 2018
2.Research Object: Enterprises that have built space utilization business models
3.Research Methogology: Face-to-face research by the expert researchers, survey via telephone & email, and literature research
the Rental Conference Room Market
A rental conference room is the space and facility for letting the users to use for a certain period of time for the purpose of conference and meeting. It also refers to the service itself. The space is used for employment tests, job fair, employee training, seminars, stockholders' meeting, creditors' meeting, and etc. The rental conference room market size in this research is calculated based on the sales at the businesses.


Contact Us
©2019 Yano Research Institute Ltd. All Rights Reserved.
The copyright and all other rights pertaining to this report belong to Yano Research Institute.
Please contact our PR team when quoting the report contents for the purpose other than media coverage.
Depending on the purpose of using our report, we may ask you to present your sentences for confirmation beforehand.