Natural/Organic Cosmetics Market in Japan: Key Research Findings 2018
Natural/Organic Cosmetics Market in Japan: Key Research Findings 2018
Yano Research Institute (the President, Takashi Mizukoshi) has conducted a survey on the domestic natural/organic cosmetic market and has found out the market trends by product and by channel, trends of market players, and future outlook.
Figure: Transition and Forecast of Natural/Organic Cosmetics Market Size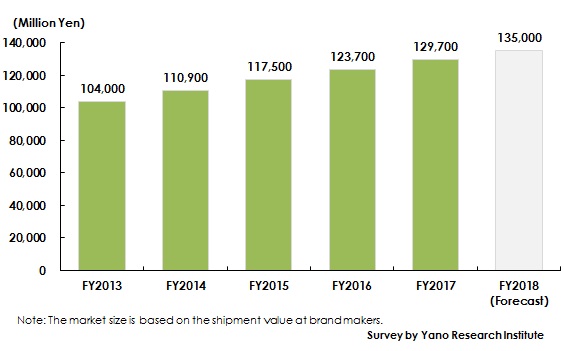 Market Overview
The natural/organic cosmetic market has been stably on the rise, against the backdrop of more consumers demanding safety in cosmetics and intending to lead environmentally-conscious lifestyles due to improved awareness of Ecology and LOHAS, and of more women seemingly having sensitive skins.

In addition, natural/organic cosmetics have become more appealing as some functions have been added just like general cosmetic products, which increased the number of real and online stores to deal in natural/organic cosmetics, making more chance for general people to see and come in contact with them. The natural/organic cosmetic market expanded in FY2017 to 104.9% of the size of the previous fiscal year to reach 129,700 million yen.

Noteworthy Topics
Whereas some standards of certification for organic/natural products exist in the world, Japan has had no certification systems, has not generally been familiar with and therefore seemingly not satisfactorily aware of the ingredients and definition of organic/natural products. In such a status, the word "botanical" has come to be used often in haircare and lifestyle products. For fear of being regarded as the synonym of organic/natural, Japan Cosmetic Industry Association (JCIA) has established a "Guideline to Label Natural/Organic Index Values for Cosmetic Products." This guideline indicates technical definitions and criteria for natural and organic cosmetic ingredients defined in ISO 16128, providing information on natural and organic cosmetics in order for the consumers to easily understand them.

There is no change in those enterprises that have already manufactured the products conforming to the criteria. They continue providing safe and excellent products in the Japanese market. They are under consideration, taking account of the progress, how they label the index according to the guideline.


Research Outline
1.Research Period: June to November, 2018
2.Research Object: Natural/organic cosmetic makers, retailers and other related organizations
3.Research Methogology: Face-to-face interviews with expert researchers, surveys via telephone/email, and literature search
<What are Natural Cosmetics?>
Natural cosmetics in this research indicate those cosmetics applicable to both of the following conditions: 1) Natural plants are used as chief ingredients; 2) Use of chemically-synthesized compounds is restrained.
<What are Organic Cosmetics?>
Organic cosmetics in this research indicate those cosmetics that fall into one of the following conditions: 1) Those certified as "organic" by a third-party institution, 2) Organic materials from in-house or tie-up farms are used in large part of ingredients, and 3) Organic materials are used in most of "brand lineup"


Contact Us
©2019 Yano Research Institute Ltd. All Rights Reserved.
The copyright and all other rights pertaining to this report belong to Yano Research Institute.
Please contact our PR team when quoting the report contents for the purpose other than media coverage.
Depending on the purpose of using our report, we may ask you to present your sentences for confirmation beforehand.