Consumer Survey regarding Otaku in Japan: Key Research Findings 2018
Top3 Responses were "Manga", "Anime" and "Popular Idols" to the Question, Which Category of Otaku Do You Think You Belong to, or Have You Ever Been Mentioned as Such?

Yano Research Institute (the President, Takashi Mizukoshi) has conducted a consumer survey regarding "Otaku" and has found out the number of Otaku by category and the annual amount consumed per Otaku person.
Table: Number of Otaku by Category and Annual Amount Consumed per Person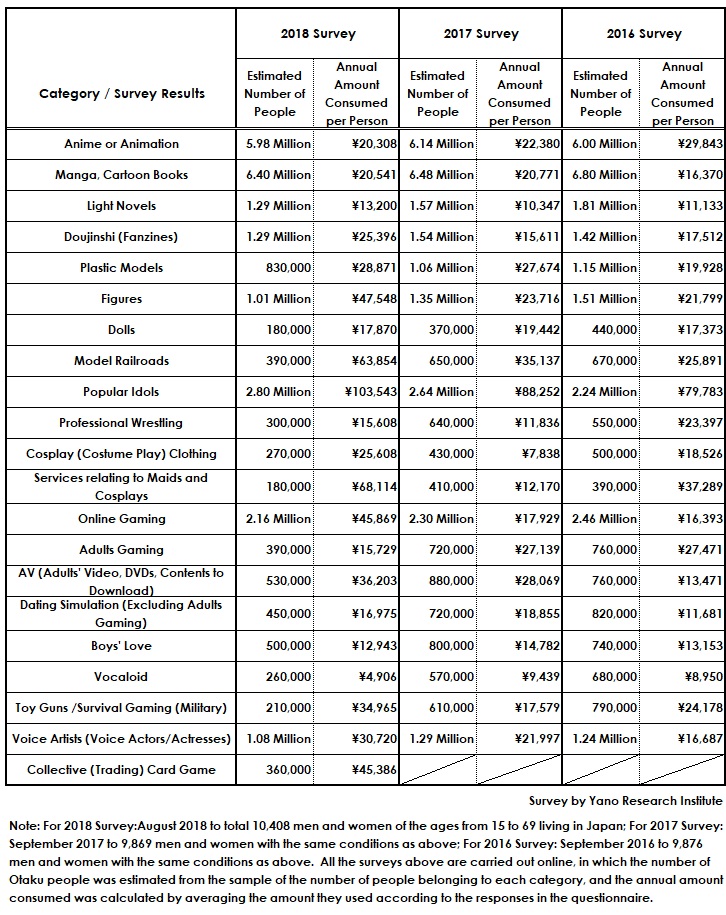 Summary of Research Findings
A consumer survey on Otaku has been carried out to men and women of the ages from 15 to 69 living in Japan. The number of Otaku people for each of the category was estimated based on the number of responses (multiple responses allowed) to the question, "Which category of Otaku do you think you belong to, or which category of Otaku have you ever been called as such?" The results were: Number of Manga Otaku was approximately 6.40 million at the first place, followed by "Anime (animation film)" Otaku at around 5.98 million, Otaku of "Popular Idols" at about 2.80 million, and "Online Gaming" Otaku at around 2.16 million.

For Manga and Anime, the number of Otaku people occupied the first and second places also in the survey conducted in 2016 as well as 2017, indicating the first and second places for three years in a row. No changes in the upper ranking categories including Popular Idols and Online Gaming.

In recent years, negative impressions generated from the word Otaku have been faded, and Otaku has no longer been a "minor" existence. Rather, the influence of Otaku to the economy has gradually expanded, now that many industries are driven by Otaku. Even a "Cool Japan Strategy" has been hammered out to promote the contents industry nationwide.

Noteworthy Topics
The next question in the questionnaire was the annual amount consumed for each Otaku category that the respondents belonged to. The largest amount spent annually per person was 103,543 yen for the category of "Popular Idol", followed by 68,114 yen for Services relating to Maids and Cosplays, and the third place was 63,854 yen for Model Railroads. Those three categories exceeded 50,000 yen for annual spending per person. Especially, the spending by Otaku for Popular Idol occupied the first place in the survey conducted in 2016 as well as 2017, which makes the top ranking for three years in a row. The survey on the characteristics and consumption activities of Otaku clarifies a certain level of tendency by each category.

Research Outline
1.Research Period: August to October, 2018
2.Research Object: 10,408 men and women of the ages from 15 to 69 living in Japan
3.Research Methogology: online survey
The Otaku Market
The Otaku market in this research indicates the market of contents, products and services regarded to have a certain number of maniac fans and many of which sold and handled at Akihabara, a town regarded as Otaku's sanctuary. Through this consumer survey, analysis regarding the characteristics and consumption activities of Otaku for 21 categories has been carried out.


<Products and Services in the Market>
Anime or Animation, Manga, Cartoon Books, Light Novels, Coterie Magazines, Plastic Models, Figures, Dolls, Model Railroads, Popular Idols, Professional Wrestling, Cosplay (Costume Play) Clothing, Services relating to Maids and Cosplays, Online Gaming, Adults Gaming, AV (Adults' Video, DVDs, Contents to Download), Dating Simulation (Excluding Adults Gaming), Boys' Love, Vocaloid, Toy Guns /Survival Gaming (Military), Voice Artists (Voice Actors/Actresses), Collective (Trading) Card Game
Contact Us
©2019 Yano Research Institute Ltd. All Rights Reserved.
The copyright and all other rights pertaining to this report belong to Yano Research Institute.
Please contact our PR team when quoting the report contents for the purpose other than media coverage.
Depending on the purpose of using our report, we may ask you to present your sentences for confirmation beforehand.