Widely-Distributed Confectionery Market Now Exceeds 2 Trillion Yen, Expanded for four consecutive years
Widely-Distributed Confectionery Market in Japan: Key Research Findings 2018
Yano Research Institute (the President, Takashi Mizukoshi) has conducted a survey on the domestic widely-distributed confectionery market and has found out the product trends by category, the trends of market players, and the future outlook.
Figure 1: Transition of Widely-Distributed Confectionery Market Size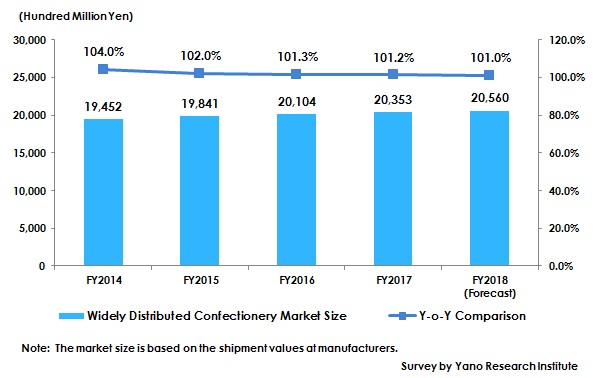 Figure 2: FY2017 Composition Ratio of Widely-Distributed Confectionery Market by Category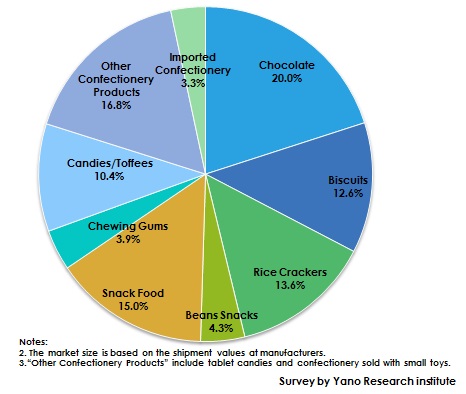 Market Overview
Due to gradual economic recovery and vigorous inbound tourism demand, the domestic widely-distributed confectionery market size, based on the shipment values at the makers, has exceeded 2 trillion yen by FY2016 and attained 2,035,300 million yen by FY2017, a rise by 1.2% from the previous fiscal year, with many categories continue being on the rise.

According to the data at Japan National Tourism Organization (JNTO), the annual number of foreign tourists visiting Japan at the end of 2017 has surpassed 2.8 million and is still growing. The objects for such tourists to consume have gradually shifted from expensive products to lower unit price products. Confectionery is not only used as souvenir, but also tends to be consumed by the tourists themselves during their stay, which is one of the reasons of the market boosted.

When looking at the market by product category, remarkable sales of functional chocolate products have driven growth of the chocolate market which occupies a large ratio in the entire widely-distributed confectionery market. In addition, the snack market, also occupying a large ratio, has expanded. Though potato-based snacks were forced to suspend the sales temporarily due to tight supply of potatoes caused by a natural disaster, many snack food products made of ingredients other than potatoes have shown prominent growth in sales. Continuous favorable sales of gummy candies have also contributed to the market expansion.

Noteworthy Topics
Many confectionery products pursuing health and functionality have been developed in various categories during the past several years, against the background of Foods with Function Claims system having been in effect since April 2015 and the healthy keyword "Low carbo" has widely been used. The retailers have been proactive in dealing in such products that have high added values in terms of health and expanded the sales floors for such products, aiming to acquire health-conscious elderly customers. On the other hand, there sometimes is a gap between products that are easy to sell and those that are not, depending on the category, which led many products to discontinue after being on sale for a certain period of time.

With relation to this research, corporate questionnaire has been conducted to the makers of widely-distributed confectionery throughout the nation in October 2018. To the question "how far are you interested in functions in developing (functional) confectionery?" the largest number of response (multiple responses were allowed to the question) was "trying to develop somewhat healthy products" which accounted for 56.5%. This indicates that the makers intend not to emphasize too much on functionality or adding too much health values, rather, they seem to continue their product development with placing importance more on joy of tasting.


Research Outline
1.Research Period: From August to October, 2018
2.Research Object: Manufacturers of widely-distributed confectionery, wholesalers, trading companies, and related organizations
3.Research Methogology: Face-to-face interviews by the expert researchers, survey via telephone and email, and literature research
What is Widely-Distributed Confectionery Market?
Widely-distributed confectionery indicates confectionery sold via wholesalers at retail channels such as mass merchandisers, supermarkets, convenience stores, drugstores, and discount shops. Such confectionery includes chocolate, biscuits, rice crackers, beans snack food, snack food, chewing gums, candies/toffees, imported confectionery and other items.


Published Report
Contact Us
©2019 Yano Research Institute Ltd. All Rights Reserved.
The copyright and all other rights pertaining to this report belong to Yano Research Institute.
Please contact our PR team when quoting the report contents for the purpose other than media coverage.
Depending on the purpose of using our report, we may ask you to present your sentences for confirmation beforehand.