Global Market of Major Four LiB (Lithium Ion Battery) Components: Key Research Findings 2018
Yano Research Institute (the President, Takashi Mizukoshi) has conducted a survey on the global market of major four LiB components and has found out the trends in using LiB cells such as for small consumer equipment as well as for vehicles, the shipment trends of major four LiB components, capital investment by country, and the price trends of those components.
Table 1 & Figure 1: Transition and Forecast of Global Market Size of Major Four LIB Components
Figure2: Transition of Global Market Share of Japanese Makers of Four Major LiB Components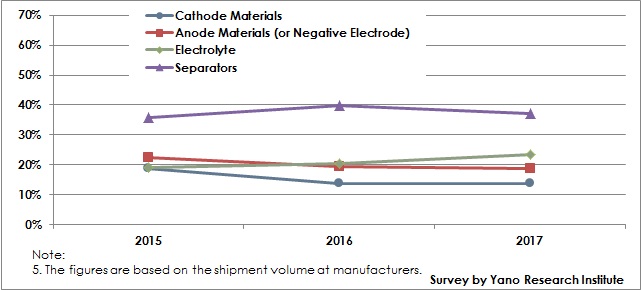 Market Overview
The global major four LiB (lithium ion battery) components market in 2017 estimated to have grown to US$ 14,715.054 million, 149.0% of the size of the previous year, based on the shipment value at manufacturers. In 2016 the shipment volume of those components for vehicles exceeded those for small consumer equipment. Since then, the driver of the market growth has been shifted to LiB for vehicles from that for small consumer equipment.

The LiB market for vehicles may slow down in 2017 because the subsidy for EVs has been reduced in China, at which the market has been invigorated. Nevertheless, the country has set the mandate policy of New Energy Vehicle (NEV) to be started in 2019, which is sure to make the Chinese xEV market to continue expanding. In addition, in Europe where environmental regulations have been stricter and stricter, new xEVs are projected to be released during the period between 2019 and 2020. Therefore, the LiB market for vehicles is still promising in 2018 and beyond. On the other hand, LiB cells for smartphones, which used to lead the market, have peaked out in 2017. That said, the LiB market for small consumer equipment is expected to continue growing modestly, because power LiB cells used for electric tools and electric motorcycles have kept on showing stable growth. Against this backdrop, the global major four LiB components market in 2018 is expected to achieve 18,247.5 million yen, 124.0 % on a year-to-year basis.

Noteworthy Topics
In 2017 Chinese manufacturers remained showing their large presence in the global major four LiB components market, as shown in the market share by country, with China occupying 66.4% in cathode material, 77.3% in anode material (or negative electrode), 69.9% in electrolyte, and 54.8% in separator. Now that the majority of the market share of separator has come to be occupied by China since 2017, China has become the top country to dominate the market share of all four major LiB components.

There is a possibility that China may face a period of growth stagnation. Among the upper ranking LiB cell makers in China, the momentum of CATL (Contemporary Amperex Technology Co.,Ltd.) outperforms others. Because the company has OEM supply chains in Japan and Europe, the growth of the company is regarded to be the key for China to keep showing its presence in the future of the four major LiB component market. Some Chinese LiB component makers have already been supplying LiB cells mainly for small consumer equipment to overseas LiB cell makers. Although those cells for vehicles are considered to be still limited, the approach by Chinese makers seems to be aggressive. These attempts shown above are also another key for China to secure its superiority.

The market share of Japan has managed to continue occupying 30% and more in separators, but the respective market shares of other three components have still been between 10 to less than 30% (see Figure 2).

Japanese LiB component makers do not seem to be earnest in supplying to the Chinese market of LiB cells for vehicles, so that such suppliers remain to be mainly Chinese makers. Because Chinese large LiB cell makers were too demanding in lowering the prices of LiB components, some LiB component makers in China even refused to be the part of the supply chains. Many Japanese LiB component makers remain being the suppliers of LiB cell manufacturers in Japan and South Korea. With new xEVs are projected to be launched during the period between 2019 and 2020 in Japan and Europe, it is possible for Japanese makers to gradually improve their presence.

In South Korea, the main market players continue being South Korean LiB cell makers. Although there were many cases where they mainly supplied LiB cells for small consumer equipment, there is an impression that the makers have focusing gradually on supplying cells for vehicles. In addition, POSCO, a large steel-making company in South Korea has newly entered the market and has been progressively investing in cathode and anode materials for LiB cells for vehicles. These moves are regarded to enhance the supply to South Korean cell makers, and just like the case of the Japanese makers, it is possible for South Korean makers to gradually improve their presence as new xEVs are projected to be launched during the period between 2019 and 2020 in Japan and Europe.


Research Outline
1.Research Period: April to September, 2018
2.Research Object: Manufacturers of LiB components (in Japan, South Korea, China, Europe, etc.)
3.Research Methogology: Face-to-face interviews by the expert researchers, surveys via telephone/email, and literature research
What are Major Four LiB (Lithium Ion Battery) Components?
LiB, which is used for power sources of smartphones and other communication devices and of vehicles i.e., HEVs, plug-in HEVs (PHEV), and battery powered electric vehicles (BEVs), consists of more than ten components and materials. This research only reports the following four components among such materials: Cathodes, Anodes, Electrolyte, and Separators. Note that the figures in this research are calculated on US-Dollar basis: For 2013, 1 USD was converted to 97.8 yen, 1116.97 won, 6.16 RMB, or 0.75 EUR. For 2014, 1 USD to 105.9 yen, 1152.93 won, 6.14 RMB, or 0.75 EUR. For 2015, 1 USD to 121.0 yen, 1129.94 won, 6.23 RMB, or 0.90 EUR. For 2016, 1 USD to 108.8 yen, 1207.70 won, 6.64 RMB, or 0.94 EUR. For 2017 and beyond, 1 USD to 111.5 yen, 1178.60 won, 6.79 RMB, or 0.88 EUR.


Published Report
Contact Us
©2019 Yano Research Institute Ltd. All Rights Reserved.
The copyright and all other rights pertaining to this report belong to Yano Research Institute.
Please contact our PR team when quoting the report contents for the purpose other than media coverage.
Depending on the purpose of using our report, we may ask you to present your sentences for confirmation beforehand.