Expansion of Smart Agriculture Expected
Figure: Transition and Forecast of Domestic Smart Agriculture Market Size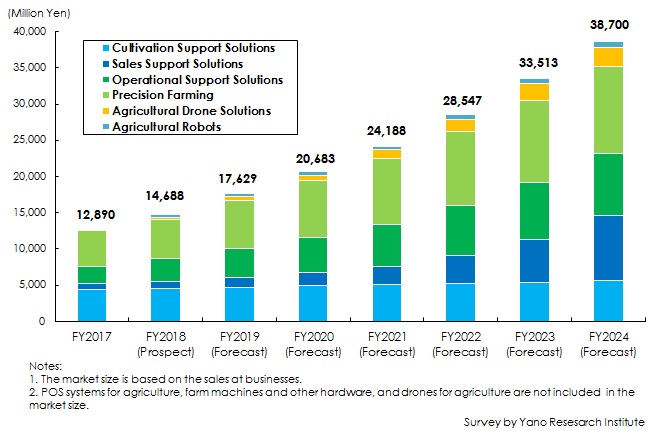 Market Overview
The domestic market size of smart agriculture for FY2017 has reached 12,890 million yen, and is projected to attain 14,688 million yen by FY2018. From FY2016 to FY2017, the market is likely to be driven by cultivation support solutions which is comprised of cloud farming, compound environmental control equipment, and production support solutions for stockbreeding, after which sales support solutions and operational support solutions linked with weather forecast are expected to expand in FY 2018 and beyond.

Smart agriculture aims to pursue further production efficiency and adds values to the produce by aligning conventional agricultural technique with state-of-the-art technologies. In the "Plan for Creating Vital Agriculture, Forestry, Fisheries and the Rural Areas," MAFF says that it wants to drive agricultural innovation by utilization of the technologies and information accumulated in other industries through cross-industry exchanges, promotion of smart agriculture that use robots and ICT, development/improvement and wider use of new breed, comprehensive utilization of intellectual property, and sophistication of production/distribution systems.

Noteworthy Topics
In order for smart agriculture to be widely accepted, it is necessary to share and standardize the communication protocol for agricultural machinery. In order to share whatever data regarding smart agriculture, operation of Agricultural Data Collaboration Platform called "WAGRI" is to start in April 2019. In addition, QZSS (quasi-zenith satellite systems) services with four-QZS constellation are to be started in November 2018, which makes highly precise positioning to be available. Positioning information can be combined with other various data such as images from other satellites, weather information, geographic and geological data, which improves the accuracy of data and expands the use range.

Also, because agriculture largely differs by item to grow and by locality, it is indispensable for each company concerned to share and organize the data and to efficiently utilize the technologies and advantages possessed by them. Cooperation among those businesses developing smart agriculture, agricultural material makers, and local IT companies is expected to solve the problems that the current domestic agriculture has, after which Japanese smart agriculture would be able to contribute to ever-expanding global food market in the future.


Research Outline
1.Research Period: From July to September, 2018
2.Research Object: Smart agriculture market players, agricultural corporations (paddy rice cultivation, agriculture & horticulture [vegetables, fruits, and flowers], dairy farming, and stockbreeding), related organizations, and the concerned government agencies
3.Research Methogology: Face-to-face interviews by the expert researchers, surveys via telephone/email, and literature search
What is Smart Agriculture?
Smart agriculture in this research indicates new agriculture that pursues further production efficiency and adds values to the produce by aligning conventional agriculture technique with state-of-the-art technologies of robots and ICT from production to harvesting/sale. This approach aims for higher agricultural productivity, lower costs, safer food and labor environment.

What is the Smart Agriculture Market?
The smart agriculture market in this research consists of the following solutions: 1) Cultivation Support Solutions (Cloud farming, compound environmental control equipment, and production support solutions for stockbreeding) 2) Sales Support Solutions 3) Operational Support Solutions 4) Precision Farming (GPS guidance systems, autopilot, and vehicle-type robot systems) and 5) Agricultural Robots. Note that the research only includes domestic market. POS systems for agriculture, farm machinery and other hardware and drones for agriculture are not included.


Contact Us
©2019 Yano Research Institute Ltd. All Rights Reserved.
The copyright and all other rights pertaining to this report belong to Yano Research Institute.
Please contact our PR team when quoting the report contents for the purpose other than media coverage.
Depending on the purpose of using our report, we may ask you to present your sentences for confirmation beforehand.