Language Business in FY2017 Grown by 2.0% to Attain 866.6 Billion Yen
Language Business Market in Japan: Key Research Findings 2018
Yano Research Institute (the President, Takashi Mizukoshi) has conducted a survey on the domestic language business market, and has found out the trends of market players and of the market by category, and the future outlook.
​
FY2017 Language Business Market Size by Category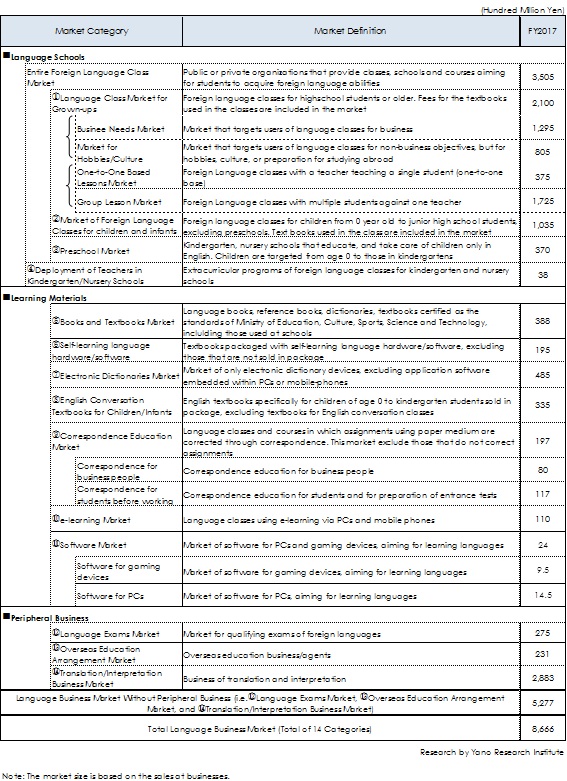 Market Overview
Size of the language business market (total of 14 categories) in FY2017 rose to 866.6 billion yen, 102.0% of that of the preceding fiscal year, based on the sales of the businesses. Against a backdrop of the attempt of university entrance exam reforms and foreign language classes becoming required at primary schools, stable growth showed especially in the services for infants and children (i.e., Foreign language classes for children/infants, Preschools, Deployment of teachers to kindergarten/day-care centers for children, and Textbooks of English conversation classes for children/infants). The e-learning market has also been prosperous, as online English conversations classes have improved the awareness, increasing the number of both corporate and individual users. The translation/interpretation business market, defined here as "Peripheral Business" in the entire language business market, has attracted attention due to utilization of AI and continued being stable, because human translators and interpreters keep being successful just as conventionally.

Noteworthy Topics
Progress in globalization, increase of inbound tourism demand (number of foreign tourists), university entrance exam reforms, earlier start and higher degree of difficulty to learn foreign languages have led the competition among the businesses in the English Conversation Class market to become fiercer. With more interest paid to English education as a whole, many businesses from other industries have newly entered the market. Restructuring has become obvious within and outside the existing groups of large, nationwide English conversation schools.


Research Outline
1.Research Period: April to June, 2018
2.Research Object: Foreign language schools, publishers, manufacturers of electronic dictionaries, software makers, e-learning businesses, correspondence education service providers, makers of language study materials, qualification test operators, and such service providers as overseas-education arrangement, and interpretation/translation.
3.Research Methogology: Face-to-face interviews by the specialized researchers, surveys via telephone/FAX, and literature research
<What is the Language Business Market?>
The language business market in this research indicates the following 14 categories of foreign language class markets: 1) Foreign language classes for grown-ups, 2) Foreign language classes for children/infants, 3) Pre-schools, 4) Deployment of teachers to kindergarten/day-care centers for children, 5) Textbooks, 6) Self-learning language hardware/software, 7) Electronic dictionaries, 8)Textbooks of English conversation classes for children/infants, 9) Correspondence education, 10) E-learning, 11) Software, 12) Language exams, 13) Overseas-education arrangement, 14) Interpretation/translation business.
Note that markets of 12) language exams, 13) overseas-education arrangement, and 14) interpretation/translation business are defined here in the category of "Peripheral Business."


Contact Us
©2019 Yano Research Institute Ltd. All Rights Reserved.
The copyright and all other rights pertaining to this report belong to Yano Research Institute.
Please contact our PR team when quoting the report contents for the purpose other than media coverage.
Depending on the purpose of using our report, we may ask you to present your sentences for confirmation beforehand.