Global Wireless Charging Systems Market: Key Research Findings 2018
Global Wireless Charging Systems Market: Key Research Findings 2018
Yano Research Institute (the President, Takashi Mizukoshi) has conducted a survey on the global wireless charging systems market and has found out the trends by application, the trends of market players, and the future outlook.
Figure: Transition and Forecast of Global Market Size of Wireless Charging Systems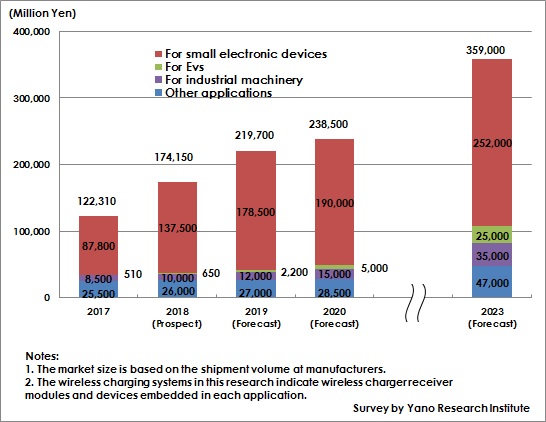 Market Overview
Size of the global wireless charging systems market (wireless charger receiver modules and devices) in 2017 was 122,310 million yen, based on the shipment value at manufacturers. The market has not only been driven by the demand for smartphones and other small electronic devices, but also by gradually growing demand for EVs, industrial machinery, and others. The market is likely to attain 174,150 million yen by 2018, 142.4% of the size of the previous year.

Noteworthy Topics
The first smartphone to embed a wireless power receiver was "AQUOS PHONE f SH-13C" by Sharp Corporation released in 2011, followed by some smartphones released by Fujitsu Limited, Casio Computer Co., Ltd., and other Japanese makers developed in cooperation with NTT Docomo, Inc., sold as terminals that support Qi standard to be able to receive power by just placing on compatible wireless charging mats without the need of connecting any cords, but all of which failed to be widely accepted. It is considered to be largely because of too few varieties in wireless chargers without enough speed and accuracy in charging, and also of consumers not fully aware of the advantages of wireless charging systems, at that time.

This situation had changed completely when Samsung Galaxy S6 was released by Samsung Electronics Co.,Ltd. in 2015, adopting wireless charging systems. This led to tens of millions of terminals equipped with wireless power receivers to emerge in the market at once, which increased the number of companies providing the chargers supporting such devices and improved the awareness of wireless charging systems and their advantages. This has encouraged the makers to release external wireless chargers for smartphones, which accelerated pervasion of wireless charging systems. As a result, more than 1,000 varieties of Qi-certified products have been shipped to the market.

Also, the format war that prevented from pervasion of wireless charging has mostly ended by 2017. Between the two widely-used standards, i.e. Qi by WPC (Wireless Power Consortium) and AirFuel Inductive (former PMA) or AirFuel Resonant (former Rezence) both by AirFuel Alliance, Qi by WPC has become the most widely introduced wireless charging system in smartphones ever since Apple joined WPC membership, which triggered enterprises from diverse industries to be the member of WPC one after another, including furniture makers, expanding the number of member companies from 252 in September 2017 to 583 by June 2018.


Research Outline
1.Research Period: March to July, 2018
2.Research Object: makers of wireless charging components and devices, user companies, universities and related organizations.
3.Research Methogology: Face-to-face interviews by the expert researchers
What is the Wireless Charging Systems Market?
Wireless charging is a system to supply power by means of electromagnetic induction, electric field coupling, magnetic resonance and microwave, without any wires or cords needed.
The wireless charging systems in this research indicate wireless power receiver modules and devices embedded in each application. The applications of those modules and devices include small electronic devices such as smartphones and wearables, EVs, industrial machinery such as AGV, and others (medical equipment, various sensors, home-electric appliances including electric tooth brushes, furniture, electric bicycles, drones, electric propulsion ships, and autonomous underwater vehicle, a.k.a. AUV.


Contact Us
©2019 Yano Research Institute Ltd. All Rights Reserved.
The copyright and all other rights pertaining to this report belong to Yano Research Institute.
Please contact our PR team when quoting the report contents for the purpose other than media coverage.
Depending on the purpose of using our report, we may ask you to present your sentences for confirmation beforehand.