Domestic Total Publication Market: Key Research Findings 2018
Domestic Total Publication Market: Key Research Findings 2018
Yano Research Institute (the President, Takashi Mizukoshi) has conducted a survey on the domestic total publication and electronic books markets for 2018 and has found out the trends of publishers and other related companies, the market trends by segment, and the future outlook.
Figure: Transition and Forecast of Domestic Total Publication Market Size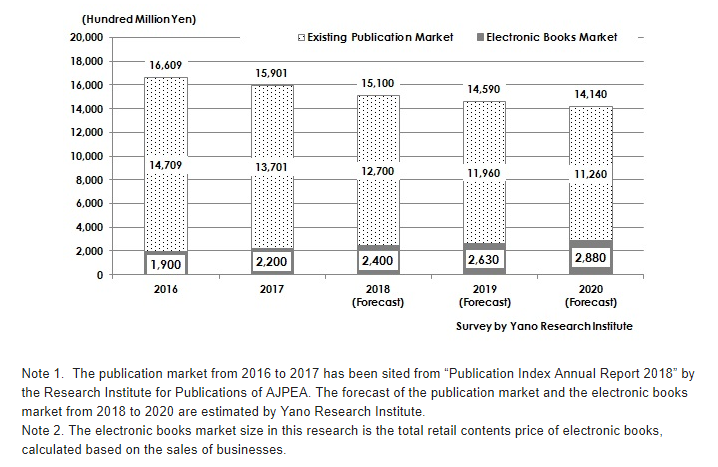 Market Overview
The domestic total publication market (total markets of existing publication and electronic books) for 2017 is likely to decline by 4.3% from the previous year to result in 1,590,100 million yen.

According to the Research Institute for Publications, the existing publication market has been declining for 13 consecutive years, with greater reduction in the sales amount of comics in recent years. The magazine market including comics has largely decreased since 1990s.

Out of the total publication market, the domestic electronic books market in 2017 has been estimated to attain 2,200,000 million yen, a rise by 15.8% from the preceding year. The electronic books market has come to occupy 13.8% of the total domestic publication market.

The domestic entire publication market has gone through negative growth. One of the reasons sure is a shift from publications using existing printing processes to electronic books, but such a shift has been in progress only primarily in comics. There are structural factors, such as decreasing number of children as well as book readers, which is regarded to be influencing more to the market. With regard to electronic comics, pirate websites have become the problematic issue.

Noteworthy Topics
According to our research on the business conditions of leading publishers, the average profit ratio after tax of 231 domestic publishers in FY2017 was 3.0%, almost the same level as the previous fiscal year. The profit ratio at publishers had largely nosedived in around 2008 when Lehman Brothers collapsed, and has gradually been recovering. However, the current status does not bear comparison at all with high profit habitus that the market used to enjoy in the past.


Research Outline
1.Research Period: May to July, 2018
2.Research Object: Domestic publishers, print companies, publication agency companies, electronic books stores, and other publication related companies.
3.Research Methogology: Face-to-face and telephone interviews by the expert researchers, and questionnaire The publication market from 2016 to 2017 has been sited from "Publication Index Annual Report 2018" by the Research Institute for Publications of AJPEA. The forecast of the publication market and the electronic books market from 2018 to 2020 are estimated by Yano Research Institute.
What is electronic books Market?
Electronic books in this research are the publication using smartphones, tablets, PC, and other digital media including electronic book readers. Electronic books (described in letter of words rather than comics), electronic magazines, and electronic comics fell in as "electronic books", but no educational and medical books are included.
The electronic books market size in this research is the total retail contents price of electronic books, calculated based on the sales of businesses. Communication fees and profit from advertisement fees are not included.


Contact Us
©2019 Yano Research Institute Ltd. All Rights Reserved.
The copyright and all other rights pertaining to this report belong to Yano Research Institute.
Please contact our PR team when quoting the report contents for the purpose other than media coverage.
Depending on the purpose of using our report, we may ask you to present your sentences for confirmation beforehand.