Home Renovation Market in Japan: Key Research Findings 2018
Home Renovation Market in Japan: Key Research Findings 2018
Yano Research Institute (the President, Takashi Mizukoshi) has conducted a survey on the domestic home renovation market and has found out the current status, the trends of market players, and the future outlook.
Figure: Forecast and Transition of Home Renovation Market Size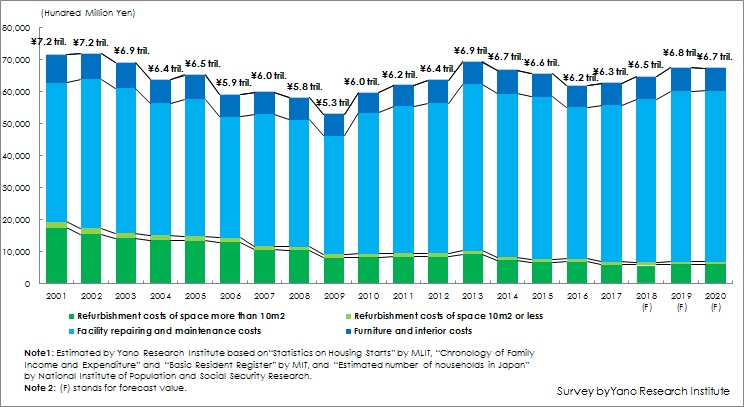 Market Overview
Size of the home renovation market in 2017 rose by 1.3% from that of the previous year to attain 6,273.8 billion yen. Refurbishment costs (of space both more than 10m2 and 10m2 or less) declined by 11.7%, "Facility repairing and maintenance costs" increased by 3.4%, and "Furniture and interior costs" rose by 1.6% from the previous year, respectively.

Noteworthy Topics
The renovation demands that sum up to be annually 6 trillion yen have been generated to benefit those companies taking renovation orders.

There are also negative factors in the long term, i.e., not only those structural factors including decreasing population, declining number of households and aging baby boomers who had driven the consumption, but also higher functions and improved qualities of new houses postponing the renovation demand, and suppressed expenditure to the residence anticipating residents to live longer.

Therefore, the housing renovation market cannot expect extremely large growth. However, when supposing there are no large changes in economic status and stock prices, the market is sure to be blessed with annual 6-trillion-yen level renovation demands.


Research Outline
1.Research Period: May to July, 2018
2.Research Object: Companies in the business of home renovation
3.Research Methogology: Face-to-face interviews by the expert researchers, and literature research
What is the Home Renovation Market?
The home renovation market in this research is defined as the market of renovations conducted at the expense of the residents. Therefore, renovations conducted by the owners of the residence to attract tenants, company-owned residence, nondwellings, and large-scale repair works of an entire apartment building by use of reserve fund for repairs are not included. The home renovation market in this research indicates the following four categories:

1.Refurbishment of space more than 10m2,
2.Refurbishment of space 10m2 or less,
3.Facility repairing and maintenance costs,
4.Furniture and interior costs.


Contact Us
©2019 Yano Research Institute Ltd. All Rights Reserved.
The copyright and all other rights pertaining to this report belong to Yano Research Institute.
Please contact our PR team when quoting the report contents for the purpose other than media coverage.
Depending on the purpose of using our report, we may ask you to present your sentences for confirmation beforehand.