Food Service Market in Japan: Key Research Findings 2018
Yano Research Institute (the President, Takashi Mizukoshi) has conducted a survey on the domestic food service industry for FY2018 and has clarified the market size, the trends of market players, and the future outlook.
Transition and Forecast of Domestic Food Service Market Size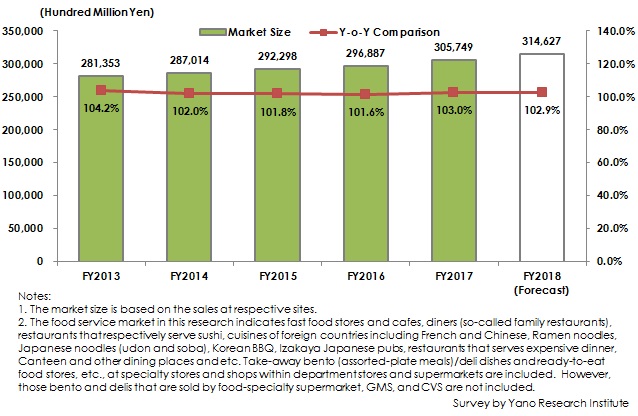 Market Overview
The domestic food service market size in FY2017 grew by 3.0% from the previous year to reach 30,574.9 billion yen, based on the sales at respective sites. The market has been on the rise for five consecutive fiscal years since FY2013 to exceed the 30 trillion yen mark. In the past, the collapse of Lehman Brothers in 2008 and the Great East Japan Earthquake in 2011 had affected the food service market to decline, but later the market has recovered and continued the positive growth, absorbing all the negative factors like increased consumption tax and economic slowdown.

Noteworthy Topics
Recently the market has been driven by the recovered sales at fast food restaurants including hamburger shops and gyu-don (beef bowl) restaurants which had used to suffer from stagnant sales at the end of deflation of the economy. Those restaurants that finished enhancement to all the stagnant existing stores and those that introduced diverse ideas for serving new dishes have attracted once estranged customers. In addition, stable growth of the market has also been contributed by stronger saving habits by the consumers, favorable sales at fast food restaurants providing low-cost dishes, and enhancement at revolving sushi bars in serving more variety of sushi at 100 yen.


Future Outlook
Because the stable economy is likely to continue for FY2018, size of the domestic food service market is expected to rise by 2.9% on year-to-year basis to reach 462.7 billion yen. Whereas fast food restaurants including hamburger shops and gyu-don (beef bowl) restaurants have shown their sales recovered, revolving sushi bars and those restaurants that specialized in special dishes like tonkatsu (deep-fried bread-crumb-surrounded pork) or tempura have gained popularity. On the other hand, now that it is in the era of decreasing population, the existing business models established during the growth period, which is to raise the sales by increasing the number of stores, do not match anymore, bringing about more companies to suffer from worsened management efficiency.


Research Outline
1.Research Period: April to July, 2018
2.Research Object: Food Service Providers
3.Research Methogology: Face-to-face research by the expert researchers, surveys via telephone, consumer survey, and literature research
What is Food Service Market?
The food service market in this research indicates fast food stores and cafes, diners (so-called family restaurants), restaurants that respectively serve sushi, cuisines of foreign countries including French and Chinese, Ramen noodles, Japanese noodles (udon and soba), Korean BBQ, Izakaya Japanese pubs, restaurants that serves expensive dinner, Canteen and other dining places and etc. Take-away bento (assorted-plate meals)/deli dishes and ready-to-eat food stores, etc., at specialty stores and shops within department stores and supermarkets are included. However, those bento and delis that are sold by food-specialty supermarket, GMS, and CVS are not included.


Contact Us
©2019 Yano Research Institute Ltd. All Rights Reserved.
The copyright and all other rights pertaining to this report belong to Yano Research Institute.
Please contact our PR team when quoting the report contents for the purpose other than media coverage.
Depending on the purpose of using our report, we may ask you to present your sentences for confirmation beforehand.