E-Commerce Payment Processing Service Market in Japan: Key Research Findings 2018
Yano Research Institute (the President, Takashi Mizukoshi) has conducted a survey on the domestic e-commerce payment processing service market and has found out the current status, the trends of the market players, and the future outlook.
Figure: Transition and Forecast of EC Payment Processing Service Market Size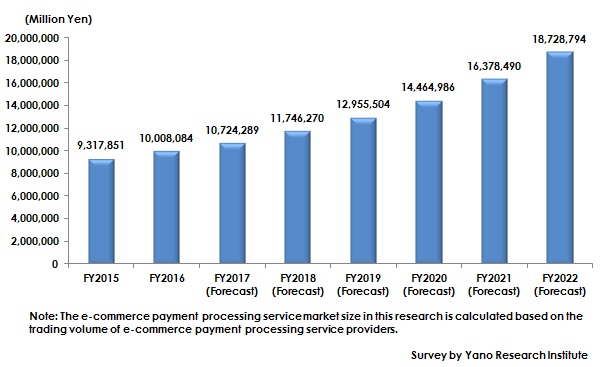 Market Overview
According to the data by METI, the domestic e-commerce (BtoC) market has been on the rise year by year. It is because of the satisfactory convenience of online shopping for its availability regardless of time and place, together with wider use of smartphones.

Payment service providers have developed their business mainly by providing payment services for e-commerce member stores, but the recent fierce price competition have brought about continuous reduction of commission rates, making such service providers difficult to maintain earning profits. Therefore, the service providers have worked out to differentiate themselves by providing value-added services other than payment, such as the services to support attracting customers and support sales (including offering of online advertisement and CRM), and loan services like transaction lending. Such services contributed to sales increase at member stores, which improved the trading volume and expanded the business at the payment service providers and PSP themselves.

Because of such factors, the domestic e-commerce payment processing service market in FY2017 is projected to expand by 7.2% to exceed 10,700,000 million yen, based on the trading volume of e-commerce payment processing service providers.

Noteworthy Topics
In addition to progress of internet and wider acceptance of smartphones, development of cloud services and expansion of API economic have encouraged increasing number of startups to start providing online payment processing services. Among such new services, there are some that enable to introduce through only a few lines of codes, indicating by far lower obstacles to introduce payment processing services.

Also, there is no doubt that increasing number of career billing aggregation service providers have come to provide payment processing services by globally integrating mobile communication enterprises. In addition, deferred payment services providers have also increased the users by crediting their phone numbers and mail addresses, and are likely to expand their business. Other payment processing services expected to emerge are those that use cryptocurrency.


Research Outline
1.Research Period: From December 2017 to February, 2018
2.Research Object: Payment processing service providers for e-commerce websites (including PSP: Payment Service Providers, mobile carrier billing aggregators, etc.,) and other related enterprises
3.Research Methogology: Face-to-face interviews by the expert researchers, survey via email/telephone, and literature research
What is the E-Commerce Payment Processing Service Market?
An e-commerce payment processing service in this research indicates a service that goes between e-commerce businesses (e-commerce website operators) and payment service providers to undertake payment processing tasks on behalf of e-commerce businesses.
The e-commerce payment processing service market size in this research is calculated based on the trading volume at e-commerce payment processing service providers.


Contact Us
©2019 Yano Research Institute Ltd. All Rights Reserved.
The copyright and all other rights pertaining to this report belong to Yano Research Institute.
Please contact our PR team when quoting the report contents for the purpose other than media coverage.
Depending on the purpose of using our report, we may ask you to present your sentences for confirmation beforehand.