Mail-Order Food Business Market in Japan: Key Research Findings 2018
Yano Research Institute (the President, Takashi Mizukoshi) has conducted a survey on the mail-order food business market for FY2018 and has found out the market trends, trends of the market players, and the future outlook.
Figure 1. Transition and Forecast of Mail-Order Food Business Market Size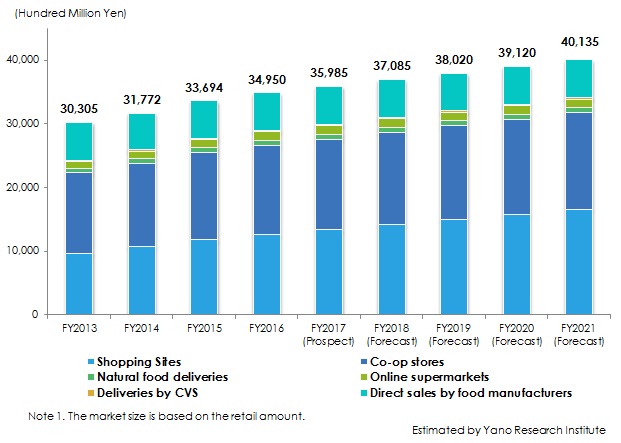 Figure 2.Mail-Order Food Business Market Share by Channel (FY2017)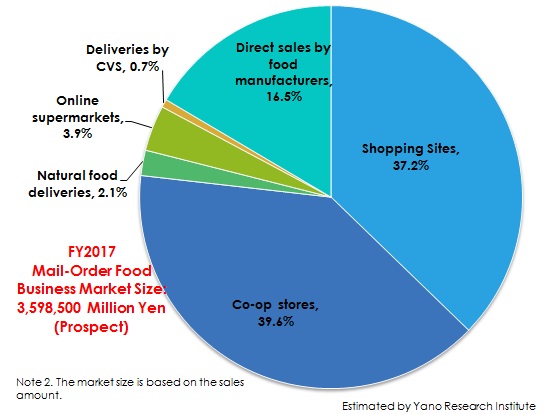 Market Overview
The mail-order food business market in FY2017 is likely to increase by 3.0% from the previous fiscal year to attain 3,598,500 million yen. This shows how mail-order shopping, including online has widely been accepted as a general buying behavior, while consumers used to obstinately prefer buying food after confirming the actual products by themselves. While Japan cannot avoid shrinking food demand because of decreasing birthrate and aging population together with declining population, the mail-order food business market is one of the few silver-lining markets that can expect growth, which is endlessly attracting enterprises to newly enter the market. Consumers have become less reluctant in buying things through mail orders and online, but the percentage of such consumers is still small, when considering the entire food retail market (i.e., more customers still buy directly at stores). Therefore, the mail-order food business market is still promising to grow further more.

When looking at the sales ratio of the domestic mail order food business market by channel, co-op stores occupies the largest ratio at 39.6%, followed by shopping sites at 37.2%, and direct sales by food manufacturers at 16.5%.

Noteworthy Topics
Expansion of Meal Kits
The development of meal kits (a set of half processed food ingredients and condiments) has boosted the market of mail order fresh products. As meal kits have ranked in as one of the hot-seller products in 2017, their exposure in media has increased. While increasing number of married women in employment, the demand to simplify and to shorten the time of meal preparation have increased. Meal kits have attracted attention that satisfies such needs. Oisix, a pioneering company in this field has successfully increased the new members who mainly subscribe to the meal kit "Kit Oisix." Meal kits are highly appraised by busy women for saving labor without feeling guilty of skipping the household chores because the cooker still has do the process of cutting and frying the ingredients. Also, they are highly valued for saving labor of considering what to cook.


Research Outline
1.Research Period: From April to June, 2018
2.Research Object: mail-order business, food business, co-op stores, food retailers, wholesalers, and etc.
3.Research Methogology: Questionnaire by the expert researchers, surveys via telephone/email, and literature research
What is the Mail-Order Food Business Market?
The mail-order food business market in this research consists of the following categories: 1) Shopping sites (including both online-order and catalog-order business), 2) Co-op stores, 3) Natural food delivery business, 4) Online supermarkets, 5) Delivery business by convenience stores, and 6) Direct sales by food manufacturers. The products dealt in the market are as follows: Fresh foods (sea food, meats, vegetables & fruits), rice, beverages (mineral waters included, but not those products of home delivery water), liquors, sweets and snacks, health foods, and other processed foods. No everyday sundries are included.


Contact Us
©2019 Yano Research Institute Ltd. All Rights Reserved.
The copyright and all other rights pertaining to this report belong to Yano Research Institute.
Please contact our PR team when quoting the report contents for the purpose other than media coverage.
Depending on the purpose of using our report, we may ask you to present your sentences for confirmation beforehand.