Loyalty Program (Point Reward Service) Market in Japan: Key Research Findings 2018
Loyalty Program (Point Reward Service) Market in Japan: Key Research Findings 2018
Yano Research Institute (the President, Takashi Mizukoshi) has conducted a survey on the domestic loyalty program (point reward service) market and has found out the current status, the market players, and the future outlook.
Figure: Transition and Forecast of Domestic Loyalty Program (Point Reward Service) Market Size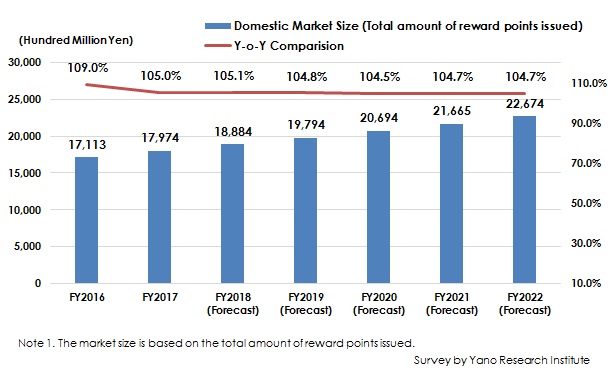 Market Overview
Size of the domestic loyalty program (point reward service) market in FY2017, based on the total amount of reward points issued, rose to 1,797,400 million yen, due to increasing number of companies newly started the loyalty program business and to increase in companies introducing multiple shared point reward services per member. The market size is projected to attain 1,888,400 million yen by FY2018.

Noteworthy Topics
Expansion of Businesses Introducing Multiple Shared Points
Until recently, one company from one industry was allowed to be the member of a cross-industry point-reward service. However, in recent years, the point-reward service providers have begun letting other services available to each other, making them multiple point reward services. Now increasing number of reward point issuers have started issuing not only their original/unique points but also shared points aiming for sales promotions.

Some new-entry share point reward service providers are encouraging the users to add their services in the already introduced ones, or to replace the existing ones. Such efforts have led increase user companies to introduce multiple reward point services especially among large companies due to stronger effects attained in sales promotions.

Also, the vendors that provide solutions of reward point management and terminals are in progress to enable the users to use multiple shared point reward services, and to develop and sell the terminals from which the payment service is available.


Research Outline
1.Research Period: February to June, 2018
2.Research Object: Service providers, website operators of loyalty programs, and rewarding point issuers, etc.
3.Research Methogology: Face-to-face interviews by our researchers, survey via email and telephone in combination with literature research
About Loyalty Programs/Point Reward Services
Loyalty programs, or another words, point reward services in this research include those services that the customers can use reward points within the specified member companies and groups, as well as those services that the points can be used throughout the aligned member companies across the industries (common point reward services.)

What is the Loyalty Programs/Point Reward Service Market?
The market size of loyalty programs or point reward services in this research is calculated based on the total amount of reward points issued, which include not only unique points and mileages issued by some of specific companies, but also shared points available to use throughout the member companies across the industries.


Contact Us
©2019 Yano Research Institute Ltd. All Rights Reserved.
The copyright and all other rights pertaining to this report belong to Yano Research Institute.
Please contact our PR team when quoting the report contents for the purpose other than media coverage.
Depending on the purpose of using our report, we may ask you to present your sentences for confirmation beforehand.