M2M Market in Japan: Key Research Findings 2018
M2M Market in Japan: Key Research Findings 2018
Yano Research Institute (the President, Takashi Mizukoshi) has conducted a survey on the domestic M2M market and has clarified the market trend by application category, the trend of leading IT vendors, the next-generation IT technologies, and the future outlook.
Figure: Transition and Forecast of Domestic M2M Market Size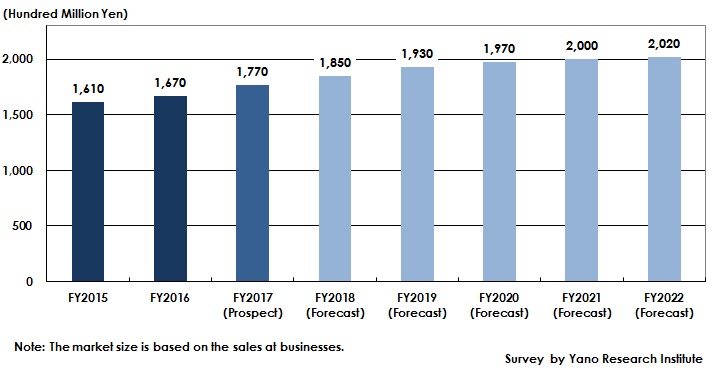 Market Overview
The domestic M2M (Machine to Machine) market in FY2016 has risen by 3.7% to attain 167.0 billion yen, based on the sales at the businesses. The new factors such as wider acceptance of LTE communication modules and expansion of applications using such modules have contributed to steady growth of the three leading carriers, i.e., NTT DOCOMO, KDDI, and SoftBank. In fact, M2M services provided by NTT DOCOMO and KDDI have grown favorably. The market in FY2017 can expect an accelerated growth by 6.0% to achieve 177.0 billion yen, against the backdrop of expanding demand at MVNO (Mobile Virtual Network Operators) to provide the services for automobiles and for the retail industry. The leading carriers are also projected to be on the rise because of increasing use of M2M in the field of energy (including new power producers and suppliers), security, manufacturing, transportation and distribution.

Noteworthy Topics
Entry to IoT Starter Kits Continues
Leading IT vendors and SIers have started providing packaged solutions named as "IoT Starter Kits" (or some other names, such as "Standard Pack", "Trial Kit", "PoC Kit", and etc.) to enable data collection & visualization, remote monitoring, and etc. with rapidity at low price mainly to trial users.

IoT Starter Kits used to be mainly for the manufacturing industry, but they have come to be sold for wider range of business forms and industries including distribution, agriculture, public welfare, public works i.e. social infrastructure, energy, and etc., watch & security services, and retail. Since M2M services are used in such IoT Starter Kits, more than 40 businesses have entered the market.


Future Outlook
In FY2018 and beyond, the domestic M2M market is likely to continue expanding due to increasing demand at MVNO. However, the border of M2M and IoT has gradually become vague, which may cause the names of M2M to disappear in the future. In fact, the names of organizations or the departments with M2M on have begun disappearing at some of large IT vendors. As LPWA (Low Power Wide Area), the next-generation technologies other than 5G, has started being introduced in the communications between devices and equipment including AI, VR/AR, work supporting robots, communication robots, drones, and etc., various attempts aiming to attain full IoT society are about to enter into the implementation phase in diverse areas.

On the other hand, the market of M2M is likely to grow steadily, with the domestic M2M market size based on the sales at the businesses to reach 202.0 billion yen by FY2022. True IoT society is projected to be achieved, with the society of sensor networks working as the other side of the same coin. IoT technologies including M2M are considered to become indispensable to the social infrastructure, just like they currently are in the communication infrastructure today.


Research Outline
1.Research Period: From December 2017 to April 2018
2.Research Object: Domestic and overseas IT service providers, SIers, telecommunication businesses (carriers,) MVNO (Mobile Virtual Network Operators,) platform vendors, device makers, and user companies
3.Research Methogology: Face-to-face interviews with the expert researchers, surveys via email/telephone, questionnaire, and literature research
What is M2M?
M2M (Machine to Machine) in this research indicates a mechanism of direct communication between machines and/or devices embedded with communication modules compliant to telecommunications standards of mobile phones/PHS, without any intervention by humans.

What is the M2M Market?
The M2M market size in this research is calculated based on the sales from the fees for building devices, modules, systems, and/or application to enable M2M, for network usage, for M2M/IoT platform usage, for solutions of data analysis/analytics, for operation and maintenance of the systems, and etc.


Published Report
Contact Us
©2019 Yano Research Institute Ltd. All Rights Reserved.
The copyright and all other rights pertaining to this report belong to Yano Research Institute.
Please contact our PR team when quoting the report contents for the purpose other than media coverage.
Depending on the purpose of using our report, we may ask you to present your sentences for confirmation beforehand.