Pet Related Business in Japan: Key Research Findings 2018
Pet Related Business in Japan: Key Research Findings 2018
Yano Research Institute (the President, Takashi Mizukoshi) has conducted a survey on the domestic pet business market and has clarified the trends of the market players, market trends by segment, and the future outlook.
Transition and Forecast of Size of Overall Pet Business Market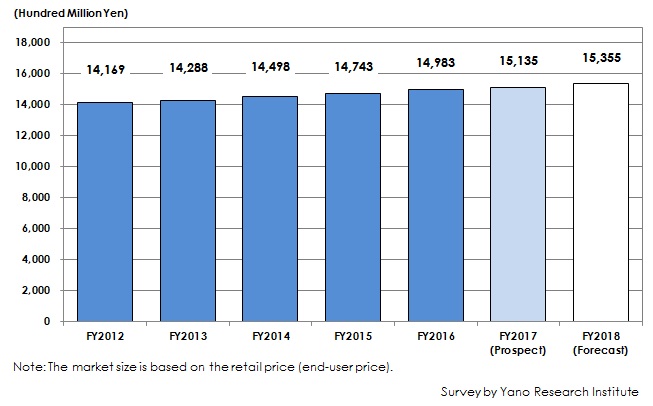 Market Overview
The overall pet related business market in FY2016 is projected to increase to 101.6% of the size of the previous fiscal year to attain 1,498,300 million yen, and 101.0% of that of the previous year to attain 1,513,500 million yen by FY2017, both based on the retail (end-user) price.

While the number of pets, which are the basis of the pet related business market, has not increased, some value-added products and services provided by each of the market players and launch of products for cats have helped the market slightly rise.

Noteworthy Topics
Diversifying Pet Services
According to Japan Pet Food Association, the domestic number of pets seems to be peaked out, while Statistic Bureau, Ministry of Internal Affairs and Communications indicates that expenditure for pet services per household has been on the rise. Since pets have grown to be regarded as companion animals, increasing number of households consider pets as one of their family members. Als0, while single or aged people, who used to refrain from having pets in the past, now started having pets in order to be healed or to be given comfort.

In such a status, the services for pets have become diverse, such as to support raising pets and enjoying the lives with pets, stimulating the demand at pet owners. Among such services, those for aging pets and health management of pets have expanded, primarily for dogs. On the other hand, some service providers specialize in cats only. In addition, wider acceptance of internet and smartphones has generated new services including automatic feeding and house sitting.


Future Outlook
The overall pet related business market based on the retail price is anticipated to grow to 101.5% of the size of the previous fiscal year to attain 1,535,500 million yen by FY2018. Such slight rise of the market is projected because people now regard pets as one of the family members, which expands expenditure for pets, while, the service providers expect rising demand of pet related services including premium pet food, pet insurance, as well as the services for achieving comfortable environment to lead the lives with pets such as those for health management of and teaching good manners for pets.


Research Outline
1.Research Period: From November 2017 to March 2018
2.Research Object: Manufacturers, wholesalers, retailers of pet foods and goods, and other organizations related to pet business
3.Research Methogology: Face-to-face interviews by the expert researchers, surveys via telephone, and literature research
What is the Pet Related Business Market?
Pets in this research indicate cats, dogs, and other live animals sold at pet shops. The pet related business market consists mainly of pet foods and goods, and other related industries which include pet grooming services, medical services, insurances, hotels, and etc.


Contact Us
©2019 Yano Research Institute Ltd. All Rights Reserved.
The copyright and all other rights pertaining to this report belong to Yano Research Institute.
Please contact our PR team when quoting the report contents for the purpose other than media coverage.
Depending on the purpose of using our report, we may ask you to present your sentences for confirmation beforehand.