Future of Ethical Drugs in Japan: Key Research Findings 2018
Yano Research Institute (the President, Takashi Mizukoshi) has conducted a survey on the ethical drugs market and has estimated the production of ethical drugs until 2025.
Figure: Forecast of Production of Ethical Drugs (2017 to 2025)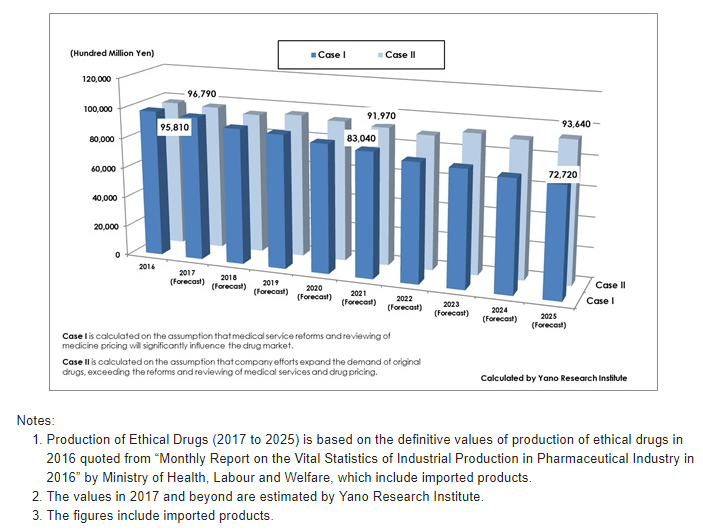 Market Overview
The Japanese government announced a proposal of a radical reform of the country's drug pricing system in December 2017, aiming to reduce "people's burdens" and improve "quality of care" while it tries to attain both "sustainability of NHI (National Health Insurance)" and "promotion of innovation." While the national health insurance system in the middle of the rapid economic growth helped the domestic pharmaceutical industry expand, it is now unsustainable unless drug prices are reduced, causing pharmaceutical companies to currently stand at a crossroad.

Ministry of Health, Labour and Welfare has notified through official gazette in March 5 2017 of the revision of Drug Price Standard system effective since April 1, 2018. In this revision the drug price has been reduced by average 7.48% (the medical fee by 1.65%). Out of this price reduction, the drug price reduction by 1.31% (medical fee by 0.29%) was caused by the Price Maintenance Premium (PMP). The total 16,432 items of drugs are the objects of this latest revision of NHI Drug Price Standard. Out of those items, the prices of 184 items are to be raised because of unprofitability. Also, long-listed drugs have been overhauled at this latest revision.

*The "price maintenance premium (PMP)" is the system for some of new drugs that satisfy certain requirements among those new drugs without any generic drugs to temporarily suspend price reduction based on the judgement of the market rate until generic drugs are to be marketed.

Noteworthy Topics
According to the data in the Ministry of Health, Labour and Welfare, the size of imported products of ethical drugs has rapidly expanded from what used to be 457,500 million yen in 1990 to 3,999,800 million yen by 2015, occupying 40% of the entire market. This has largely alleviated the problem of medical drug lag (delay in approval of new drugs in Japan from Europe and US), but has brought about significant dependency on imported products within the ethical drug production. In other words, rapid increase of imported items from overseas has expanded the ethical drug production in Japan. Therefore, if the government continues trying to reduce the drug prices aiming to suppress medical fees for the future it is possible for the government to receive political pressures from the exporting countries, especially U.S.


Research Outline
1.Research Period: From April 2017 to March 2018
2.Research Object: Pharmaceutical companies and wholesalers, medical institutions, dispensing
3.Research Methogology: Face-to-face interviews by the expert researchers, and literature research
Production of Ethical Drugs (2017 to 2025) is based on the definitive values of production of ethical drugs in 2016 quoted from "Monthly Report on the Vital Statistics of Industrial Production in Pharmaceutical Industry in 2016" by Ministry of Health, Labour and Welfare, which include imported products.


Contact Us
©2019 Yano Research Institute Ltd. All Rights Reserved.
The copyright and all other rights pertaining to this report belong to Yano Research Institute.
Please contact our PR team when quoting the report contents for the purpose other than media coverage.
Depending on the purpose of using our report, we may ask you to present your sentences for confirmation beforehand.