Mineral Water Market in Japan: Key Research Findings 2018
Mineral Water Market in Japan: Key Research Findings 2018
Yano Research Institute (the President, Takashi Mizukoshi) has surveyed the domestic mineral water market and has clarified the trends by segment and of the market players, as well as the future outlook.
Transition of Size of Mineral Water Market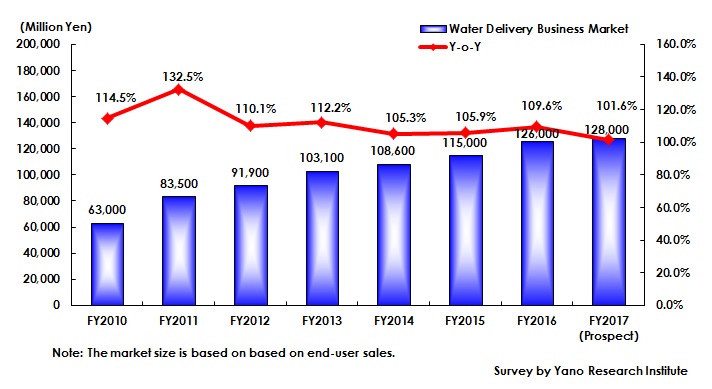 Market Overview
The mineral water market in FY2016 has kept its steadfast growth to attain 299,000 million yen, 103.6% of the size of the previous fiscal year, based on the shipment value at manufacturers. The market growth rate in FY2016 has grown by 22% from that in FY2011, indicating that the market has grown largely for the past five years. This has raised the market share of mineral water year by year, occupying 5.0% of the entire beverage market in FY2011, and 5.9% in FY2016.

The water delivery business market in FY2016 based on end-user sales expanded to 126,000 million yen, 109.6% of the size of the previous fiscal year. Because the growth period of the market overlapped with the time when the water demand had increased since the Great East Japan Earthquake occurred, the water delivery business market has taken a great stride, exceeding even the mineral water market. The market growth rate in FY2016 has grown by 51% from that of FY2011 the year when the Great East Japan Earthquake had struck, indicating how the market has made a leap forward during the past five years.

Noteworthy Topics
Sparkling Water
Among various kinds of carbonated drinks, the one growing dramatically is unsweetened sparkling water. Until recently, sparkling water in Japan was mainly for something to mix with liquor or alcoholic drinks. However, primarily among people in their 30s and 40s, it has been established as a beverage for drinking straight just like still water, increasing the demand to be drunk more. Because drinking sparkling water straight has an impression of being healthy, it has a potential to be chosen for broader opportunities as an option to take the place of liquor.

Appearance of such sparkling water with small amount of fruit juice or fruit aroma added, the domestic sparkling water market has expanded year by year, though drinking sparkling water straight had been unfamiliar habit for Japanese people. Currently, the market has been supported by the frequent purchase of products by the regular customers. It has been regarded as an attractive market with sufficient room for acquiring new users for the future.

Enhanced by such products as unsweetened harder sparkling water, semi-sweet ones, and etc., the market is likely to be invigorated furthermore. However, it may be difficult for enterprises to newly enter the market, because the point of differentiation can be made only by hardening (or weakening) of carbonation so that it is necessary for the market players to have strong brand power with enough awareness. On the other hand, it is expected that existing sparkling water to have more variety in flavors.


Future Outlook
The mineral water market in FY2017 has temporarily shrank due to 2016 Kumamoto earthquakes and bad weathers in the summertime, but it still is the promising market, because there is a steadfast demand in the daily lives of people, not provisional. Though there may be a certain level of ups and downs every year, it is projected to form a stable market without any nose-dive fall. While abrupt fall can hardly be considered, any rapid growth like the one the market had experienced cannot be expected anymore.

The water delivery business market that has expanded rapidly is considered to level off with the recent growth rate slowing down. Whether the market expands a little further or become well matured depends on the attempts by the market players. Although rapid increase cannot be expected anymore, the market can still enjoy steady growth, by targeting local cities and regions with room for growth or by developing customers in the elderly population.


Research Outline
1.Research Period: January to March, 2018
2.Research Object: Beverage manufacturers, water delivery companies, etc.
3.Research Methogology: Face-to-face interviews by the expert researchers, survey via telephone, questionnaire, literature research including collecting of publicized data
What is Mineral Water?
Mineral water in this research indicates domestic or imported products of natural water, natural mineral water, mineral water, or bottled water. Also included in the market are sparkling water sold as mineral water brand (natural sparkling water is also included, though the brands selling the products may not be those of mineral water) and flavored water. BIB (back-in-box) water and water delivered by water delivery service is not included in this market.

What is the Water Delivery Business?
The water delivery business consists of a packaged service of delivering water and lending a water server to households and offices. Such water delivery business without lending a server and home delivery services of plastic-bottled water are not included in this research


Contact Us
©2019 Yano Research Institute Ltd. All Rights Reserved.
The copyright and all other rights pertaining to this report belong to Yano Research Institute.
Please contact our PR team when quoting the report contents for the purpose other than media coverage.
Depending on the purpose of using our report, we may ask you to present your sentences for confirmation beforehand.