03/13/18
Food Gift Market in Japan: Key Research Findings 2017
Research Outline
Yano Research Institute has conducted a study on the domestic food gift market with the following conditions:
Research period: August 2017 to February 2018
Research objects: Gift wholesalers and makers, retailers (department stores, GMS, specialty stores, mail-order businesses), etc.
Research methodologies: Face-to-face interviews by the specialized researchers, surveys via telephone, mailed questionnaire, and literature research
<What is Food Gift?>
Food gift in this research indicates sweets/confectionery, processed food, condiment/cooking oil, beverage, liquor, and etc. that are used as personal or corporate gift, including such occasions as mid-summer and year-end gifts. The market size has been calculated based on the retail sale of food gift.
Summary of Research Findings
Domestic Food Gift Market in 2017 Rises to 4,100 Billion Yen, 102.8% on Y-o-Y Basis
Size of the domestic food gift market in 2017 is estimated to achieve 4,100 billion yen, 102.8% of that of the previous year, based on the retail sale. While ritual gift exchanging in mid-summer and year-end has been on the decline in recent years, people have come to give gifts in more casual and easy manner, affecting food gifts also to be sent more lightheartedly such as for expressing sender's feelings toward accepters and for sending small presents. Since this tendency is likely to continue, the food gift market size in 2018 is projected to rise to 101.2% of the size of the previous year to attain 4,150 billion yen.
With More Chances to Think About Bond or Connection, Demand of Gift Increases
Since the Great East Japan Earthquake hit the nation, people in the Japanese society have come to increasingly treasure "kizuna," i.e., bond, connection, or relationship with people who they care about. This has increased casual gift exchanging between people close to each other, rather than formal types of gifts. In addition, due to growth of gifts with the senders' strong preferences or particular sentiment toward acceptors, there are more cases where the gifts are tried at first by the senders themselves.
Growth in Personal Gifts with Importance Placed on Lifestyle
In an environment where lifestyles have diversified, growing number of senders tends to send a gift that goes well with the lifestyles of the acceptors. One of the reasons is that people find more opportunities to send casual gifts between people with close relationship, while exchanging formal gifts is declining. Among such casual gifts, there are more cases where the senders send gifts that he/she himself/herself has enjoyed eating or that has been familiar with in his/her daily life, or has tried himself/herself beforehand to make sure it actually taste good.
Figure 1: Transition and Forecast of Domestic Food Gift Market Size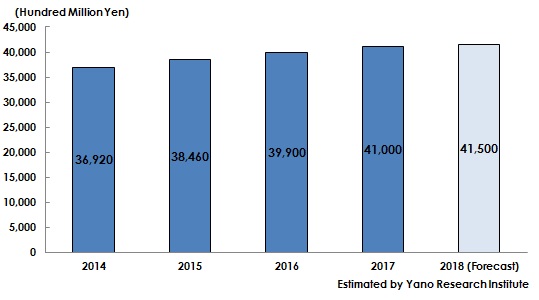 Published Report
*The information provided in the "Research Summary" is what is as of the date of announcement and could be altered or renewed without any prior notice.
Contact Us