01/31/18
Vending Machine Market in Japan: Key Research Findings 2017
Research Outline
Yano Research Institute has conducted a study on the domestic vending machine market with the following conditions:
Research period: October to December, 2017
Research objects: Beverage manufacturers, vending machine operators and manufacturers, and other related organizations and companies
Research methodologies: Face-to-face interviews by the expert researchers, questionnaire, and literature research
Summary of Research Findings
Accumulated Number of Vending Machines Installed as of 2016 Failed to Reach 5 Million to 4,941,400
The accumulated number of vending machines introduced as of end of December 2016 was 98.8% of that of the previous year to end up with 4,941,400 machines, failing to reach 5 million*.
With regard to vending machines for beverages, which occupy about 50% of all the vending machines, the accumulated number of those for soft drinks (in cans/PET bottles), milk (in paper packs), coffees/cocoas (in paper cups), and alcoholic drinks/beers has all respectively declined*.
* Quoted from the data by Japan Vending System Manufacturers Association.
With Locations to Install Vending Machines Already Saturated, More Efforts Made to Improve Sales Efficiency per Machine
It is said that the locations to introduce vending machines have already been saturated. Therefore, the focus of the effort has shifted from increasing the number of vending machines to raising the sales efficiency per machine by handling those products exclusively for vending machines and those high-value-added commodities. In such a status, more vending machines have become connected with networks and available to use with smartphones.
Vending Machines Evolve to Deal in Multiple Categories of Products or to be Convenience-Store Machine
As for those vending machines dealing in sweets and food, those attracting attention are those that convenience stores have started attempting, i.e., the vending machines that sell multiple categories of products rather than single, such as to combine with beverages, and those that reflect an idea of convenience-store vending machine which sell various products usually sold at a convenience store.
Figure 1: Accumulated Number of Vending Machines Installed and Forecast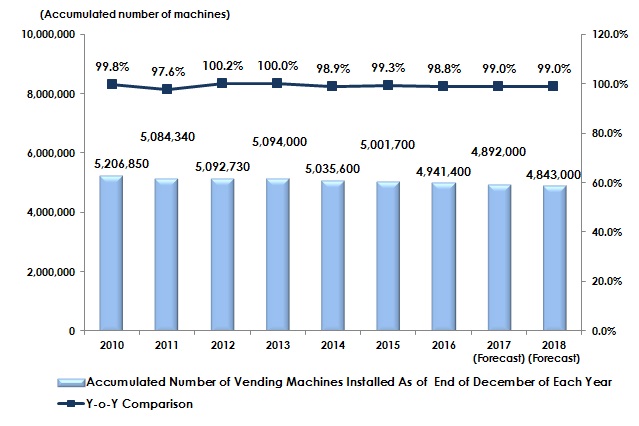 Published Report
*The information provided in the "Research Summary" is what is as of the date of announcement and could be altered or renewed without any prior notice.
Contact Us