12/19/17
Gardening Market in Japan: Key Research Findings 2017
Research Outline
Yano Research Institute has conducted a study on the domestic market of gardening and vegetable gardens with the following conditions:
Research period: August to November, 2017
Research target: Companies handling plants and gardening materials, and relevant industrial organizations
Research methodologies: Face-to-face interviews by the specialized researchers, survey via telephone, and literature research
What is the Gardening/Vegetable Garden Market?
The market of gardening and vegetable gardens in this research is largely divided into two categories, plants and gardening materials. The plant category includes young plants for flower beds, vegetables/fruits plants, flowering trees, bulbs, turf/ground-covering plants, potted plants, and etc. The gardening material category includes pots/planters, agricultural chemicals for home gardening, fertilizers/soil for home gardening, mowers/lawnmowers/string trimmers, and other gardening products*. Note that the market size of garden vegetables/fruits plants is included in the market size of entire gardening.
*Other gardening products mentioned above include imported-brand gardening goods (gloves, waist aprons, and other brand goods), garden furniture, wooden products such as wood decks and trellis, home gardening machines (sprayers, and sprinklers), and home gardening tools (planting trowels, weed pullers, garden hammers, scissors, and etc.)
Summary of Research Findings
Domestic Gardening/Vegetable Garden Market in FY2017 Projected to be 222.9 Billion Yen, 99.9 % on Y-o-Y Basis
The domestic gardening/vegetable garden market in FY2016 slightly fell to 223.1 billion yen, 99.2% of the size of the previous fiscal year. Partly because of main customers of the market, i.e., people in their 60s and 70s, having aged further, the market size in recent years has been levelling off and has stopped rising. The market in FY2017 is also likely to remain the same level, projected to be 229.0 billion yen, 99.9% of the size of the preceding fiscal year. To overcome this stalemate, the businesses within the market, including producers of plants and makers of gardening materials, have progressively striven to acquire new customers for the future.
With Gardening/Vegetable Garden Market Shrinking due to Aging Customers, Challenge is How to Acquire New Customers
In the status where the gardening/vegetable garden market is on the decline because the main customers have become too old to grow plants, the challenge for the market is to acquire new customers who can be the main consumers within the market. In order to entice customers, plant producers have tried to develop and commoditize several attractive plants characterized to be easier to harvest, and have specific functionalities, such as highly nutritious, or available to grow in the period between autumn and winter. As for gardening material makers, they have proactively attempted to promote indoor horticulture by recommending interior greens and kitchen gardens in order for new customers to feel that gardening is not that troublesome. In the metropolitan areas where few hardware stores exist, such products as vegetable-garden kits are sold at convenience stores.
Figure 1: Transition and Forecast of Domestic Gardening/Vegetable Garden Market Size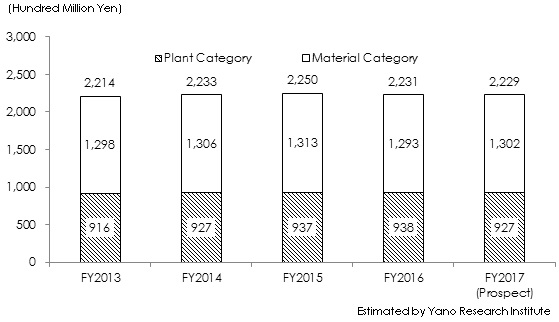 Figure 3: Intention of Starting Making Vegetable Gardens In Future by Age (Questionnaire Results)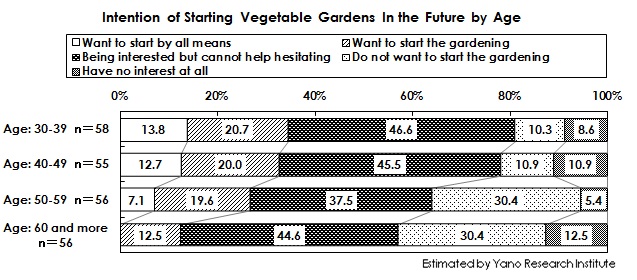 Published Report
*The information provided in the "Research Summary" is what is as of the date of announcement and could be altered or renewed without any prior notice.
Contact Us