10/30/17
Gift Market in Japan: Key Research Findings 2017
Research Outline
Yano Research Institute has conducted a study on the domestic gift market with the following conditions:
Research period: From August to September, 2017
Research targets: Wholesalers and manufacturers of gifts, and retailers (department stores, mass merchandisers, gift-specialty stores, and mail order companies)
Research methodologies: Face-to-face interviews by the expert researchers, surveys via telephone, mail-in questionnaire, and literature research
What is the Gift Market?
The gift market in this research indicates the market of presents and gifts, including midsummer and year-end gifts, exchanged by individuals and corporate bodies.
The structure of the distribution channels has been reviewed since the research in 2015 to redress the redundant sales prices at retailers, wholesalers and manufacturers to integrate into the retail-based prices to the utmost, after which the market size was recalculated. Therefore, the values differ from those announced in the previous years.
Summary of Research Findings
Domestic Gift Market in 2016 Grew to 10,207.0 Billion Yen, 102.5% of Previous Year
The domestic gift market in 2016 achieved 10,207.0 billion yen, 102.5% of the size of the preceding year, based on the retail amount. While ritual and formal types of gift exchanging have been on the decline, exchanging of gifts, though changed to more casual ways, is still needed as a method of facilitating communications. Therefore, casual gift exchanging is likely to continue supporting the market.
Expansion of Food Gift Demands
Food (including beverages or liquors) has been overwhelmingly well selected for gifts compared with other items. This tendency has become stronger year by year as there are various opportunities and diverse channels to buy food. In addition, food is stably demanded not only for auspicious events but also for condolence. In recent years, food chosen for gifts tends to show the senders' particular sentiment or strong preferences.
Gifts to Share Between Senders and Accepters Being On the Rise
Whereas occasions of exchanging formal gifts are decreasing, casual gifts have been increasingly important between people with close relationship, such as parents and children, brothers and sisters, and intimate friends, as a means to send special feelings that the senders daily possess toward the accepters. In recent years, those gifts not only to give, but rather to share the time with the accepters has been popular. The "sharing gifts" between senders and accepters are particularly well accepted at such days as Mothers' Day, Fathers' Day, and Respect-for-the-Aged Day.
Figure 1: Transition and Forecast of Gift Market Size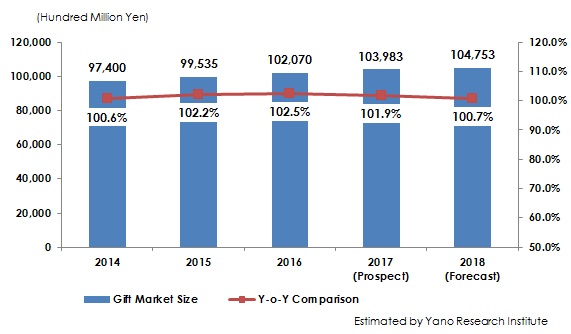 Figure 2: Transition and Forecast of Midsummer / Year-End Gifts Market Size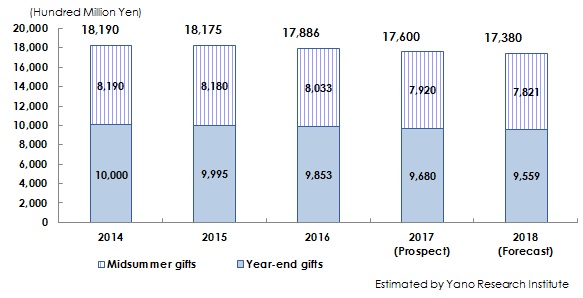 Published Report
*The information provided in the "Research Summary" is what is as of the date of announcement and could be altered or renewed without any prior notice.
Contact Us