10/26/17
Apparel Market in Japan: Key Research Findings 2017
Research Outline
Yano Research Institute has conducted a study on the domestic apparel market with the following conditions:
Research period: From July to September, 2017
Research targets: Apparel manufacturers, retailers (department stores, mass merchandisers, apparel specialty stores and etc.), and related organizations
Research methodologies: Face-to-face interviews, mail-in questionnaire survey, and literature research
Summary of Research Findings
Total Domestic Apparel Retail Market in 2016 Ended Up as 9,220.2 Billion Yen, 98.5% on Y-o-Y Basis, Decrease in All Clothing of Men's, Women's and Babies & Infants
Size of the entire domestic apparel retail market in 2016 was 9,220.2 billion yen, 98.5% of that of the previous year. The market size has declined in all the categories as follows: Women's clothing reached 5,756.3 billion yen (97.8% of the size of preceding year), men's clothing marked 2,547.8 billion yen (99.6%), and babies' and infants' clothing 916.1 billion yen (99.8 %).
While Apparel Market as a Whole On a Decline, Mail-Order Channels Show Rising Tendency
The apparel market size by sales channel is as follows: The apparel retail sales at department stores scaled down to 1,926.5 billion yen, 93.5% of the size of the previous year; mass merchandisers fell to 858.4 billion yen, 92.8%; apparel specialty stores reached 4,982.6 billion yen, 100.4%; and "other" channels including mail orders attained 1,452.7billion yen, 102.7% of the size of the preceding year. While the market as a whole has been on a decline, "other" channels are those to increase their market share.
Continued Expansion Expected for Online Channel among Total Domestic Apparel Retail Market
Among "other" channels, mail order companies continue their prosperity, whereas all the mail-order enterprises using catalogues as their main media have kept on suffering from stagnant sales. On the other hand, those companies that have real shops are eager to build omnichannels to diversify their sales channels.
Figure 1. Transition of Total Domestic Apparel Retail Market Size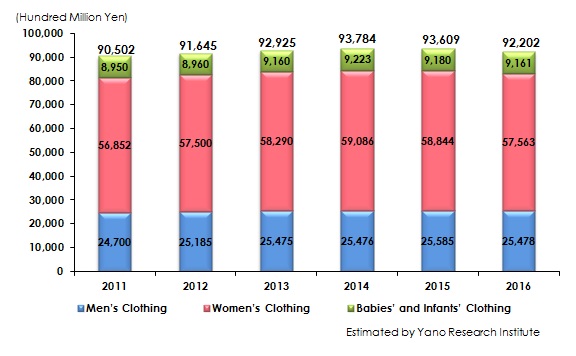 Figure 2. Transition of Total Domestic Apparel Retail Market Size by Sales Channel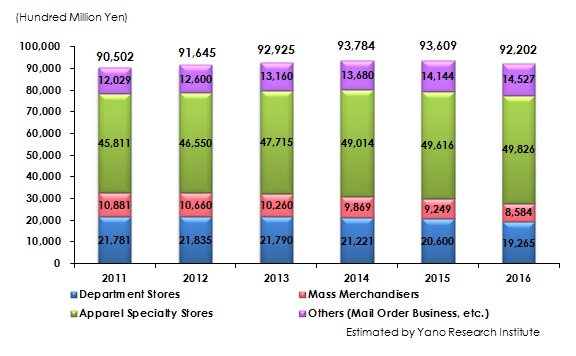 Published Report
*The information provided in the "Research Summary" is what is as of the date of announcement and could be altered or renewed without any prior notice.
Contact Us