10/25/17
PHR (Personal Health Record) Service Market in Japan: Key Research Findings 2017
Research Outline
Yano Research Institute conducted a study on the domestic PHR (Personal Health Record) service market with the following conditions:
Research period: March to June, 2017
Research target: Enterprises and organizations in the personal healthcare service market
Research methodologies: Face-to-face interviews by the expert researchers, surveys via telephone, literature research including collecting information from open data.
What are PHR Services?
The PHR services in this research indicate the services to provide the following data: Vital data (body weight, body composition, blood pressure, glucose level, body temperature, and etc.); Exercise data (the number of steps taken, running distance, and calories consumed), Meal data (meal record, intake calories, and etc.); and Electronic maternity passbook (health condition of a pregnant mother, growth record for infants, vaccination record and etc.) Note that e-Drug Profile Books (electronic medication records of individual patients) are not included.
What is the PHR Service Market?
The PHR service market in this research has been calculated regarding the following types of businesses: B-to-C business models where an individual service user bears the expenses of the services, the reward (i.e., advertising expenses) in return for the promotions by the users of sphygmomanometers or the runners and other specific attributes, the services that the company pays for its own employees, and also B-to-B business models of defrayments by multiple PHR service providers providing data among themselves.
Summary of Research Findings
PHR Service Market Size in FY2016 Increased by 8.7% to Attain 12.5 Billion Yen
The PHR (Personal Health Record) services that electronically collect and manage health information of a person have widely been accepted because health management and promotions focusing on primary prevention of diseases have drawn attention in recent years. The domestic PHR service market in FY2016 is estimated to have risen by 8.7% to attain 12.5 billion yen, based on the sales of the businesses. The market entry by IT software vendors and other businesses, in addition to healthcare equipment makers and mobile phone careers, have brought about diverse PHR services and free-of-charge applications to emerge.
Increase of Free Application Users Led Models of Paying Membership/Personal Billing to Stall, and Service Providers to Focus More on Services for Corporations
Rapid prevalence of smartphones in around 2010 and beyond has made free-of-charge smartphone applications to become generally accepted even in the field of PHR services. This led the business models of paying membership and personal billing that use carrier settlement, well accepted in 2000s, to face difficulty. Therefore, PHR service providers have started placing more importance on the services for enterprises, health insurance associations and local governments, the tendency of which is likely to become brisk, against a backdrop of the boom of the management focusing on health management and promotions of their employees.
PHR Service Market Size in FY2017 Projected to Increase by 16.0% to Attain 14.5 Billion Yen
PHR service providers aim to increase sources of profits by expanding the range of services, for example, to develop paying services with added values for individual users, and for enterprises to provide OEM for services, offer those services for employees, for development to advertisement, and also for secondary use of collected data. The domestic PHR service market in FY2017 is projected to rise by 16.0% to achieve 14.5 billion yen, based on the sales of businesses.
Figure 1: Transition and Forecast of Membership and Market Size of PHR Services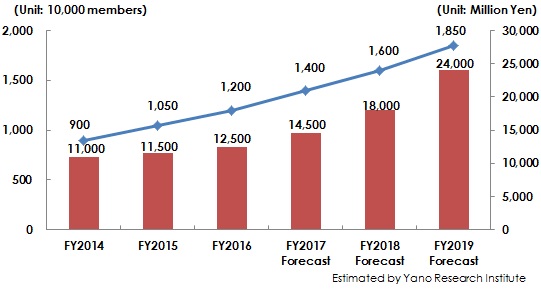 Published Report
*The information provided in the "Research Summary" is what is as of the date of announcement and could be altered or renewed without any prior notice.
Contact Us