06/03/16
Health Food Market in Japan: Key Research Findings 2016
Research Outline
Yano Research Institute has conducted a study on the health food market with the following conditions:
Research period: December 2015 to April 2016
Research target: Health food OEM, sellers of health foods (health food manufacturers, general food manufacturers, and pharmaceutical manufacturers), health food organizations, and supervisory authorities
Research methodologies: Face-to-face interviews by the specialized researchers, surveys via telephone/FAX, and literature research
<What are health foods?>
Health foods in this research indicate functional foods in forms of tablets, capsules, powder, or bottled liquid.
Summary of Research Findings
Health Food Market in FY2015 Projected to Attain 746.0 Billion Yen, 103.5% on Y-o-Y Basis
Size of the domestic health food market in FY2015 is likely to achieve 746.0 billion yen, 103.5% of that of the previous fiscal year, based on the shipment value at manufacturers. The market has been driven by inbound tourism demands (vigorous purchasing by foreign visitors) and sales of products that have been applied and accepted early on as Foods with Function Claims, the system of which having launched in April 2015. Although inbound tourism demands are on the decline, Foods with Function Claims are likely to be sold strenuously, so that the domestic health food market in FY2016 is projected to attain 780.4 billion yen, 104.6% of the size of the previous year.
Sales through Pharmaceutical Channel Being Favorable Due to Development of Foods with Function Claims and Inbound Tourism Demands
The sales of health foods through recently-expanding pharmaceutical channels, such as drugstores, have increased in FY2015 due to inbound tourism demands and are likely to grow during FY2016 because of vigorous development of Foods with Function Claims. Although the growth rate may slowdown, the market through mail order channels continues rising.
More than 40% of Consumers in 30s and More Intend to Buy Foods with Function Claims
Results of the questionnaire targeting consumers of 30s and over asking about the intention of buying Foods with Function Claims are as follows: 5.9% intend to proactively buy such foods; and 36.7% would like to buy if the foods are what they are interested in. The total of the both respondents became 42.6%, which exceeded those unwilling respondents (19.6% of respondents don't feel like buying them; and 19.1% has no intention what so ever, the total of both accounting for 38.7%). As for the top 5 interested functions that consumers expect from Foods with Function Claims are; to combat neutral fat, visceral fat, anti-cholesterol, regulation of gastric function, and eye care, all of which accounted for 20% each.
Figure 1: Transition of Size of Health Food Market by Sales Channel

Figure 2: Intention of Buying Foods with Function Claims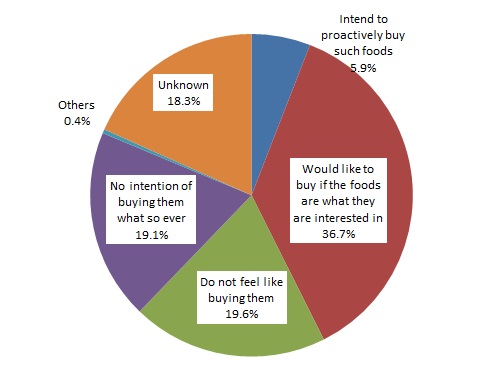 Figure 3: Functions of Foods with Function Claims Interested in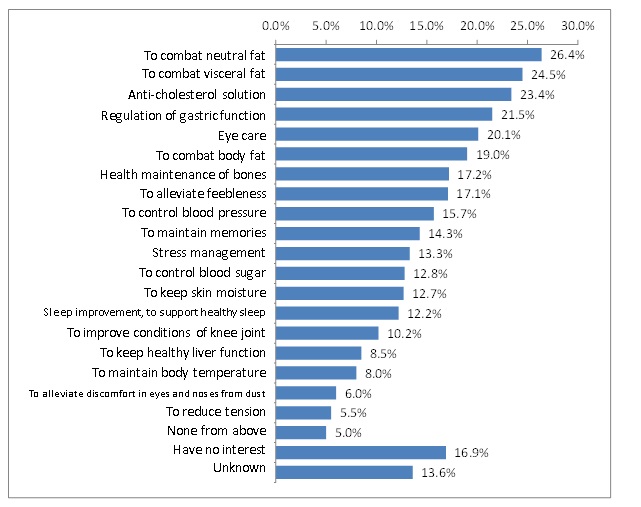 Published Report
*The information provided in the "Research Summary" is what is as of the date of announcement and could be altered or renewed without any prior notice.
Contact Us