10/01/15
Stationary ESS (Energy Storage System) Market in Japan: Key Research Findings 2015
Research Outline
Yano Research Institute has conducted a study on the Stationary ESS (Energy Storage Systems) market with the following conditions:
Research period: From May to September, 2015
Research targets: Manufacturers of domestic leading stationary ESS and market players relating to storage systems
Research methodologies: Face-to-face interviews, surveys via email/telephone, and literature research
What are Energy Storage Systems?
Stationary ESS (Energy Storage Systems) in this research indicates the following five types of storage systems: Lead-acid batteries, LIBs (Lithium-ion batteries), nickel-hydrogen batteries, redox flow cells, and Na-S batteries. This research classified the stationary ESS market into the following five categories according to the installed place and segment.
For Residence: ESS installed mainly at detached houses. Those that are used at apartments and condominiums are included.
For Power Systems: ESS installed at power plants and substations, co-installed at recyclable energy power supplies, micro grid systems used in isolated islands, for ESS demands at new electric power companies.
For Industrial/Business Use: Electric storage devices to take measures of BCP (Business Continuity Plans), and Peak-shift/Peak-cut/Peak-backup ESS at facilities and other large companies.
For Public Facilities: ESS for schools and community centers.
Others: ESS installed for Railroad and others.
Summary of Research Findings
Domestic Stationary ESS (Energy Storage Systems) Market Size Projected to Attain 581,491kWh in 2015, and 1,195,708kWh by 2017, Driven by ESS for Residence
The stationary ESS (energy storage systems) market in 2015 is likely to attain 581,491kWh, 194.1% of the size of the previous year, based on the shipment volume of manufacturers. More than 50% of the stationary ESS market share by sector is occupied by those for residence, which is driving the entire market.
The enterprises that handle ESS for residence are promoting packaged ESS with PV (Photovoltaic power generation) for future sales. They also propose the products for existing PV users, in view of the market beyond 2019, when 10-year contracts for the FIT programs for excessive electric power end. Although there is a concern that the market growth rate may slowdown in 2016 depending on the subsidies from the government, the above-mentioned promotions and proposals can prevent the market from slowing down and revitalize it. Backed by rising renewable energies and changes in the electric power market, the demands of ESS for power systems and for industrial/business use are likely to expand. The stationary ESS market for 2017 is, therefore, expected to attain 1,195,708 kWh, based on the shipment volume of manufacturers.
Domestic Stationary ESS Market Projected to Achieve 3,306,600 kWh by 2020, Three Times Larger than in 2017
The stationary ESS (energy storage systems) market, based on the shipment volume of manufacturers, in 2020 is expected to achieve 3,306,600kWh, 276.5% of the volume in 2017. The market share by sector continues to be dominated by ESS for residence, which is expected to occupy 66.0%, followed by ESS for power systems accounting for 16.9% and for industrial/business 14.5%.
Figure & Table 1: Transition and Forecast of Stationary ESS (Energy Storage Systems) Market Size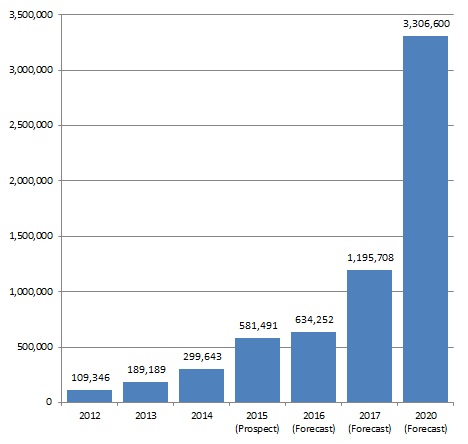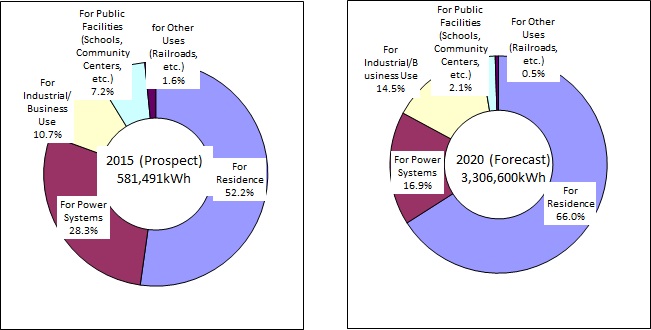 Published Report
*The information provided in the "Research Summary" is what is as of the date of announcement and could be altered or renewed without any prior notice.
Contact Us